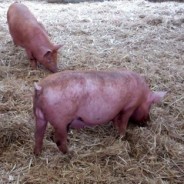 The Chicken Lady, who writes the excellent blog Kitty's Super Allotment, was cooking pigs' cheeks with apples when I popped in a few weeks ago. "I think that the butcher just sliced them off the head. Look there's a piece of ear." Initially I felt a bit squirmy about tasting this dish. But these were quite delicious – the skin crispy yet soft and the meat similar to slow cooked belly of pork. Celia from Purple Podded Peas had mentioned pigs' cheeks to me ages ago and I'd forgotten all about them. In...
read more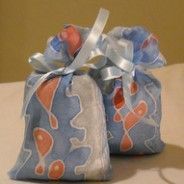 It's been all quiet on the eastern front for far too long so I thought that I'd show you what I've been doing while there has been a break in blog transmission. Actually it's been quite noisy here with the whirr of my sewing machine. The Min Pins want to sit with me as I work but the sound drives them dotty. They also hate the foot pedal and have a tendency to take a short cut over this. Sometimes with disastrous results and always evoking a roar from me. Their response is to stare into the middle distance and refuse any attempt...
read more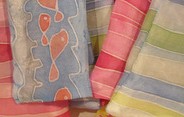 Ooops! I made a vast mistake on my chicken wings post. I blame the fact that I've been immersed in my new activity of painting on silk. No this is not 17th century style miniatures of Danny and The Min Pins, beautifully exercised with teeny tiny brush strokes. Rather this is me having primary school fun. Splish splosh daub. If you buy the neutral, washoutable gutta, you can control the soakability of the silk. Suddenly it was like using the Magic Painting Books that I loved as a child. But I'd created these designs myself. Armed with a...
read more
We can't buy chicken wings in the Newmarket Waitrose. Some people think that wings are a waste of time. Even my mum says "They have so little meat on them. The other day I was given two at a lunch party. We were all scraping about politely for the meat." I agree with the Min Pins – I like chicken wings. Danny does great wings on the Kettle barbecue with hickory chips (lid on). Crisp and smokey tasty. Unbelievably good. A few weeks ago I wondered why Waitrose didn't sell chicken wings and came up with a possible answer. They must use...
read more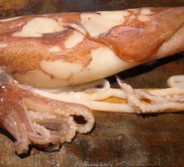 I picked up a whole squid a couple of days ago. I had not come across this wonder before – just those lovely white open ended envelopes that regurgitate a baby squid when pressed. This half priced one had skin and an eye! Maybe two, I couldn't/didn't want to work out the physiology. But I did venture onto the Internet to learn squid preparation skills. I was so pleased that I did as I was tempted to just slice it up, skin and all. I didn't know about the stomach, quill or the beak. Yes a squid has a beak! Generally I think of squid as...
read more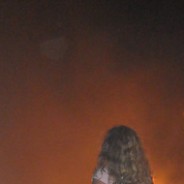 "Guess what I won in the raffle?" Lil waved a book about to make her point. It was a slim hardback. She clutched it to her chest. "It's called How to Run an Allotment." She paused to survey the audience. "Well I've been running an allotment for 63 years. Started with my grandpa aged 7." "So you'll be able to give a good review of the book then, Lil!" The Allotment Association Social Club raffles are legendary. On Saturday night there were 27 prizes. I hooked a box of Maltesers and Danny got an extendable coat...
read more
What is NaNoWriMo? It's a project that has almost seduced me for a few years now. Run from Berkley, California this is a project designed to get people writing. In their own words@NaNoWriMo Berkeley, CANational Novel Writing Month is a fun, seat-of-your-pants approach to novel writing. The goal: write a 50,000 word novel during the month of November.You can check out the details here http://www.nanowrimo.org. I've been toying with writing a novel for the last few months. I don't have a subject, genre or plot so the thought has wafted...
read more