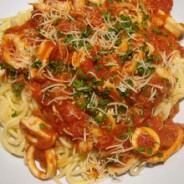 This may sound crazy but up until the past month or so I've always though of squid as a starter. It's often knocked right down in price at the supermarket but I've tended to avoid it – my eye being on ingredients for a main course. When I made my yummy squid soup I suddenly realised that this seafood had enormous potential. Surely if soup could be this easy and this good there must be other ways to use squid? I spent a couple of hours researching squid as a pasta sauce. 95% of sauces used tomatoes so I decided to go with that. This is...
read more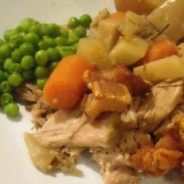 Whenever I go abroad to a country with a warmer climate than the UK, I buy herbs to bring home. Somehow these are better than the ones available in the UK – perhaps the drying methods are better? I have an oregano herb mix that I bought in Crete over 11 years ago. It is stored in an airtight container in a dark place and is so powerful that we can only use a large pinch at a time. Sometimes I splash out on bouquet garni on these trips and last winter discovered a stash at the back of the larder. These were from France and were...
read more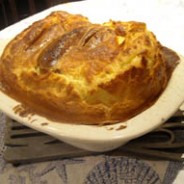 When the weather starts to get chilly I have a longing for a really good Toad-in-the-Hole. Not the rather chewy offering that I munched as a child but a light and puffy one. A dish that would have Danny pleading for more rather than the slightly suspicious response, "I don't think that I've ever eaten Toad-in-the-Hole." Long pause. "I'd be interested to try it." The problem was that I didn't have a recipe. Then I twigged that our Yorkshire Pudding recipe probably would be good. So I used Delia's version as a guide for...
read more