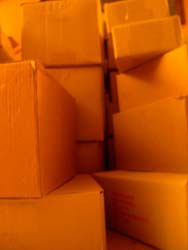 The good thing about living with Danny is that we share the same faults. I can vaguely understand where he's coming from when he's being stubborn. We usually call a truce.
My obsessive behaviour is almost matched by his. Our bookshelves are filled with topic specific tomes to prove this. If you would like to become an expert on crystal healing, beat your friends at poker or study the night sky (Northern Hemisphere), we have a wide range of books. We also house the largest collection of gardening books that I have seen in a European bedroom.
The one compulsion that we don't share is a need to buy large job lots on eBay. This is Danny's late night peccadillo. We have mysterious boxes stacked in the barn, bulging with items that Danny says,
˜Will be useful one day.'
I don't pry (we are already speeding towards The Second Secret). The boxes are already handy. The shelves are full so they the latest delivery is now stacked on the floor providing a makeshift workbench and a place to prop the deluxe wheelbarrow.
We also share mild dyslexia. We both independently noticed ˜Human style Pork' in Danny's much thumbed edition of Ken Holm's Hot Wok
. (Hunan). Danny was enjoying his Dorset Cereals muesli and idly reading the pack until he noticed children listed in the ingredients. (chilean).
For months, I couldn't work out why motorway signs were announcing ˜no hard shoulder for 200 years' – how could they possibly know?
Leave a reply