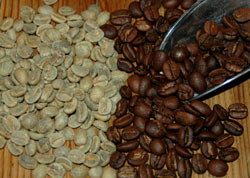 Here is another really useful post from The Mildred Mittens Manufactory. Danny linked up with some coffee freaks about a year ago and every now and then talks about making his own coffee roasting machine (apparently it can be done using a windscreen wiper motor and an old drum). There are links to a great coffee forum and some wonderful coffee photographs on the post that I wrote at the time.
I love my coffee! As I only drink a maximum of two cups a day, mid morning with a couple of homemade Biscotti, I want my coffee at its very best which means freshly roasted to the exact degree to suit my palate.
After many years of buying brands of coffee from various sources including so called 'specialists' I felt vaguely dissatisfied. Price wasn't always a good guide to quality – some premium coffees even tasted musty! Often when dining out at a 'swanky' restaurant the coffee was a letdown too. I couldn't seem to find consistently satisfying coffee anywhere!
One evening when browsing the net I came across a website advocating the joys of home roasting and suddenly everything clicked into place! The key to good coffee was first class beans, freshly roasted and ground to suit both my cafetierre and taste. Balancing all these variables is essentially a personal choice. Controlling the entire process could be the perfect solution.
More research followed and I quickly became immersed in coffee culture, learning about the different characteristics associated with different coffee growing regions and even between individual 'estates'. The more I read the more I realised what was required.
I decided to take the plunge and buy a home roaster made by Hottop. I can thoroughly recommend this machine, it has been reliable and is straightforward to use. I ordered it from http://www.hasbean.co.uk/ adding a selection of different beans to get started.
The first surprise was the raw coffee beans – they were green! The smell was wonderful, a bit like hay . . . fresh and honest! Then it was time to get down to the mysteries of the roast. The actual process is similar with whatever method you decide to use – you can even roast a small quantity of beans in a frying pan, with lid on, on the cooker hob!
The Hottop machine roasts 250g of green beans at a time. You simply connect the power, choose a setting and set the machine to pre heat, this takes about 5 minutes. A beeper indicates when the roaster has reached the desired temperature and you pour the green beans into the machine through the hatch on top. It roasts automatically, with the beans rotating in a cylinder not unlike a very hot tumble drier! A window on the front allows you to monitor the process visually throughout. While this adds to the fun it is also very important.
After about 5 minutes the beans will have turned a light yellow and will emit a grassy smell as they heat up. A few minutes later they will turn a nice golden brown and the smell of roasted coffee will begin to permeate the air as the water dissipates and the beans dry out. And then, after about 12 to 16 minutes, the exciting bit starts – 'first crack' – which lasts for around a minute, and happens as the sugars in the bean begin to caramelise and the last drops of water escape.
The beans have turned a rich dark brown. The room is filled with the beautiful aroma of fresh roast coffee and smoke!
We place our roaster in the hearth and the smoke goes up the chimney. It could be positioned under an extraction fan, or near a window . . . or simply open the kitchen door! Many coffees are at their best if you stop roasting just at the end of first crack – if they are left in the roaster for another minute or two they enter 'second crack' stage producing a very dark 'continental' style of coffee. At this stage the beans are extremely hot and can actually blow apart. Great care must be taken as they can catch fire!
When you are happy that the beans have reached the desired roast you eject them into the cooling tray. It is important they are cooled quickly. I take the cooled beans in their tray outside to give it a shake to get rid of the chaff. They are then stored in an airtight container and used within 10 days. It is best to wait a day before trying your coffee to allow the flavours to develop. I just grind sufficient beans to make a serving as once the coffee is ground it deteriorates very quickly loosing that wonderful, aromatic flavour.
Having roasted our own coffee for over a year, I find the magical and somewhat sublime experience undiminished. We have reached 'coffee nirvana'!!
There is invaluable additional information at http://www.hasbean.co.uk/ and on the American website http://www.sweetmarias.com/
Leave a reply