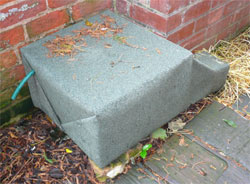 I like hedgehogs. Even though they are partial to eating frogs. The few that have visited our garden caused a first night opening uproar with the Min Pins and had to be escorted off the premises in a cardboard box. Clearly intelligent beasts, hedgehogs no longer visit our garden. Only an Einstein amongst hedgehogs could coexist safely beside a Min Pin.
This week I had an interesting exchange of emails with Mildred who happened to mention, in passing
"And last night we watched our 7 hedgehogs trooping round the garden looking for the tasty treats that we leave out for them. They have taken up residence in 3 'sleep' boxes Ian made in the summer. We feel very lucky!"
My response was quick
"How wonderful having 7 hedgehogs in your garden. These sleep boxes sound interesting. What do they consist of? Are they easy to make?"
Mildred replied,
"The sleep boxes are made from thick plywood, about 18″ square, 12″ high. They have a tunnel for the hedgehog to enter, and a pipe at the rear to allow air circulation. The whole thing is covered with roofing felt, and stapled in position.
We didn't make ours so we could open them as we thought it would just make places for water to seep in. I can reach in the tunnel to clean them out, and also to check if there's an inhabitant!
We put a lot of hay inside and some nearby. It was obvious with 2 of the boxes that they had a resident, the hay was disturbed etc. But the 3rd box . . . . we just couldn't be sure. Ian lifted the box and I carefully put my hand in – YES! There he was, fast asleep! We were so pleased!
The boxes had only been down for about 2 to 3 weeks so they must be ok for the hedgehogs to take to them so readily! It is so nice to think they can just get up at night, stretch and then find their breakfast!
We live on a quiet lane but there are still fast cars about. We like to think the hedgehogs have no need to go out the front gate now. If you are keen to have the exact measurements for the hedgehog boxes I could ask Ian to draw a plan. He checked a few websites with their idea of a suitable arrangement and took it from there!"
Yes please, I'd love to put a plans on The Cottage Smallholder site.
Mildred replied within hours.
"I have attached a drawing! Click here to download the Ian's free hedgehog villa construction plans.
Ian used 15mm ply throughout (he rescued it from some kind of palettes at work!). The box in the photo I sent earlier, in situ, was slightly adapted with the tunnel off centre so it fitted around the side of the pig sty wall. It is covered all over in roofing felt – Ian used one big bit so it would be really waterproof! Then I put some hay inside and left some near the door. To encourage them to look at it we left a few peanuts near the door.
We are very cautious about disturbing them during the day, one box is near where I walk through to the car area, but it doesn't seem to be a problem.
The boxes are slightly raised up on bits of brick so when it rains heavily they won't be sitting in a puddle, and as the tunnel slopes down slightly (so the water won't run inwards!) it allows it to sit properly. As you can see we used a short piece of hose for the air duct – any bit of pipe could be adapted I am sure! I am also sure the exact size could be varied a bit.
As all 3 sleep boxes have a resident hedgehog we have talked about making a few more as most evenings we see 7 hedgehogs.
Any other tips?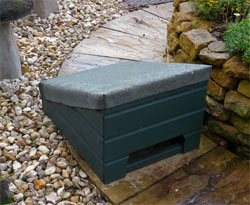 My advice on feeding is that it's important for them to have somewhere undercover as they don't like wet nuts etc. A paving slab on top of 4 bricks would be as good as anything. The box Ian made is good because I can lift it up and wash the path under it (hedgehogs are messy little creatures).
We have 2 more feed stations, one near the back door and one along the path, both of these we can see from the window and one evening I actually fed a hedgehog on the door step – that was wonderful. We mostly leave them to it though. I noticed tonight it was 20 past 6 when we set their supper out, too late for the birds to eat it and soon enough to be sure we are out of their way – the baby hedgehog seems to come just as it turns dark.
We feed them peanuts, cat food (which we place under another box so the cats don't get it), homemade left over cake . . . . . they had some apple crumble last night! They also like walnuts/hazelnuts/brazils . . . . they share those with the squirrels
Thank you so much, Mildred, for sharing your hedgehog sleep box plans and feeding advice.
If you are keen on attracting hedgehogs to your garden this is a must. If you have children, building the feeding station and sleep villas would be a fabulous project to do with them.
If you like guinea pigs, birthdays and cakes why not visit Mildred's site where amongst many things she has plans for the ultimate guinea pig birthday cake.
Leave a reply