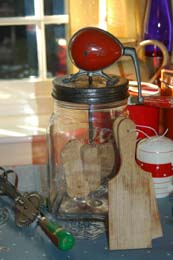 When Mildred mentioned that she made her own butter I was intrigued. Was it easy? What did it involve? Could anyone make their own butter?
Mildred assured me that it was easy. She has a churn but she reckoned that butter could probably be made in a food mixer. The only problem seems to be that "Once you have made your own, you won't want to go back to 'bought'!" Mildred uses it, "In croissants, puff pastry and all my cakes and on toast of course, under the jam!"
Mildred's instructions are as follows.
"Take one churn, 1 ltr or 2 pints of really good fresh double cream, no Long Life here. The night before you want to make it put the cream in the glass churn, or a big jug (everything needs to be absolutely spotless of course, I use the baby sterilising solution, Milton). Add one tablespoon (about 80ml) of crème fraîche (see note below) – we are making 'cultured' butter here – and give it a stir. Cover and leave in the warm kitchen (70f to 80f) overnight. In the morning, or 12 to 18 hours later, it should be thicker and taste slightly tangy, if it smells very strong it has 'gone wrong', it hasn't happened to us yet!
You can pop it in the fridge for up to 24 hours at this stage. In any case it needs cooling a bit to around 63f, I put the glass jar into a bowl with cold water and ice cubes for 20 mins.
Now the exciting part! Attach the churn/paddle part to the jar and start to turn. Mine takes about 150 turns of the handle, maybe 3 minutes (although this can vary depending on the cream, temperature etc, it took 10 mins with some Tesco cream).
It will thicken like whipped cream would with stiff peaks, then keep a close eye and slow the churning a little. You may detect a change in the consistency, it will start to go 'grainy', and before you know it the globules of yellow Butter will materialise, awash in the Buttermilk, this is the butter 'breaking' or 'coming'!
Carefully pour the Buttermilk out (into a jug to keep in the fridge for future scones, soda bread etc). I sometimes pour it through a sieve to ensure none of the butter escapes.
Now wash your Butter to get rid of all the residual Buttermilk which would otherwise spoil the Butter. Add a cup full of iced water to the Butter in the glass jar. If it is still fairly soft you can use the churn, but quite often it is too firm so you need to squidge it around using a spatula or fork. Pour the water away and add fresh water, you need to do this 4 or 5 times until the water runs quite clear. Scoop your Butter out and place it in a clean bowl, then press as hard as you can with a spoon or spatula to get rid of any water, you can also add salt at this stage, I use a teaspoon of Maldon.
Tip your Butter onto a marble / pastry board and divide into 2 using your butter pats. It is easy to shape in 2 nice oblongs or rolls which can then be wrapped in greaseproof paper. Pop it into a poly bag and into the fridge. It keeps for up to a week. You can of course freeze it for up to 3 months.
Crème fraîche: It needs to be the sort without any additives/stabilizers etc. The reason for'culturing' the butter are partly that it increases the yield, it also makes the Butter 'come' much quicker, and it really does produce a lovely flavour. You can use yogurt or buttermilk too, but I haven't tried that."
Mildred recommends this website as it has good detailed information for butter makers- http://www.positron.org/food/butter/
I don't have a churn but I have a gleaming Magimix. Tomorrow I am going to buy some cream and experiment. Years ago my mum used to make butter, using cream and an electric whisk. She discovered the method when she was whipping cream and found that she was making butter. I was still at school and so was able to venture into the woodworking department and make her a pair of butter pats with a carved pig motif. I had forgotten all about this until 30 seconds ago!
Leave a reply