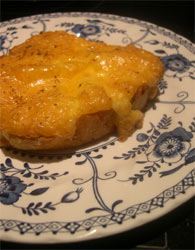 "August has been terrible, this year. It seems to have rained every day."
My prospective client stared out of the window into the greyish, damp gloom.
I've only had outside work for the last few weeks. I know the Met Office site better than our redundant garden table, where we used to eat our supper most summer evenings years ago.
This morning I rambled through the blog archives. August was cold and wet last year and 2006 had its low points too. When summer weather turns chilly, an indulgent treat can lift the spirits in just one bite.
Waiting for the rain to clear this morning, I decided to make oven roasted cheese toasties. The original recipe for these is from Darina Allen's wonderful book Irish Traditional Cooking
. I've tweaked and played with the recipe ever since I escaped to the kitchen during a chilly winter rat shoot in the cottage garden. I can't remember if we bagged a rat but there was definitely a tussle over the last cheese toasty.
Easy, scrummy and the perfect brunch.
Darina Allen's recipe is not available online so here is my version. Her book is a real gem. I bought it in Dublin when it was only available in Ireland. Now you can find it in the UK and it's a great investment – packed with inspirational, anecdotal recipes and a real feel of the best of Irish culture and food.
Oven roasted cheese toasties (for 2-3 hungry hunters)
Ingredients:
2-3 slices of fresh crusty white bread chopped in half
150g of good mature cheddar cheese, grated
2 large eggs
Half a teaspoon of dry mustard powder
Lashings of freshly ground black pepper
Method:
Preheat the oven to 220c or 200c fan
Beat the eggs.
Add the mustard powder and the grated cheese and mix well with a fork.
Spread the mixture on the bread, right up to the edges, so it will melt beyond the top.
Season with freshly ground black pepper and bake on a baking sheet at the top of the oven until puffy and golden brown (about 15 minutes).
Prepare for rapturous applause.
Leave a reply