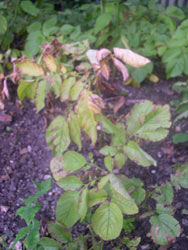 John Coe and I were closeted in the kitchen, sipping coffee and gossiping.
The conversation gradually veered towards our vegetable gardens. The weather is causing problems and neither really wants to mention our problems first.
"How are your potatoes doing? Any sign of the blight?"
He suddenly started to play with Inca who remembers the sandwiches that he used to bring for Elevenses.
"I need you to advise. Mine are keeling over. Different from last year but they are not looking good. The condition is gradually moving up the rows."
Both of us grappled with severe blight during last year's wet, humid summer. We wandered down the garden and stood in front of the mangy rows.
"If I was you I'd lift all these potatoes immediately. You've got some sort of blight, I reckon."
This wasn't like last year's blight when the plants turned brown, then black and keeled over within a couple of days. The foliage was yellow and they had lingered for a couple of weeks.
He teased the soil around a plant, picked up a spud and tested the skin. Rubbing it with his finger.
"The skin is set. Lift them before you lose them."
He must have spotted that I wasn't keen and added.
"I had the same symptoms. Out of 144 yards (130 metres) of potato plants I harvested just three sacks. Maureen was surprised when she saw me washing the tiny ones. I wouldn't have bothered in past years. The little ones were so sweet and tasty but I was gutted by the low harvest. Apart from last year, I have always grown all our own potatoes. Now we will have to buy them. They just don't taste the same and the prices make me shudder."
On close examination I spotted a tiny white spore on the potato in his hand. Last year's spuds were covered with them. So tomorrow our crop is going to be harvested. I only planted 72 feet of potatoes this year but it's disappointing. Danny can only eat the spuds he loves if we grow our own.
Irish potatoes are much more floury than the traditional English ones. When we leave our spuds in the ground for an extra six weeks or so they become floury and Danny can savour a potato similar to those that his Mam cooked all those years ago in rural West Cork.
I'm determined to grow Danny's perfect spud next year even if it's in raised beds on the driveway.
Potato blight is exacerbated by a 'Smith Period'. A warm wet humid period of at least eleven hours. Potatoes grown under trees create these conditions when the weather is damp, with the dripping of leaves and poor air currents to waft away the humidity.
Tomato plants are the same family and vulnerable to similar conditions. If you grow them as cordons, space well apart and they are far less likely to succumb to blight than more bushy specimens.
Leave a reply