Guest spot : How to make your own delicious crispbreads by The Mildred Mittens Manufactory
Posted by Fiona Nevile in Bread | 8 comments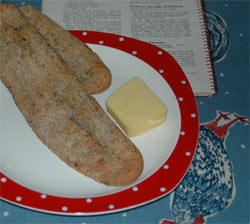 It's January and Ryvita sales must be soaring. It seems that everyone is on a diet. I tried commercially produced crispbreads once and was not seduced. The good news is that Mildred tried making her own with spectacular results. Here is her recipe – delicious for everyone and if you happen to be on a diet, a godsend!
Mildred wrote, "I wondered if you'd ever made Crispbread? They are so handy to have 'in stock', we keep ours in a big Le Parfait jar! They are lovely for a quick lunch with some cheese, or Ian will have half of one (they are big!) for his 'late' supper, with some homemade butter 😉
The recipe I use is basically from Andrew Whitley's book (Bread Matters
) with a slight 'adaptation'! The good thing about them is it doesn't really matter if your don't time everything exactly right, like you maybe would with bread. They are easy!
Here's the recipe if you would like to try them sometime:
Stage 1. The night before:
Place 75g Strong White Flour, 75g Wholemeal Flour (I use a strong bread flour but any wholemeal is fine), 150g warm water and 8g fresh or 5g dried yeast, all into a bowl and stir well. Cover or place the whole bowl in a poly bag and leave until the next day.
Stage 2. Making the Crispbreads:
Place the 'sponge' mixture (as above) into a mixer bowl.
Add
200g Strong White Flour
100g Wholemeal Flour
50g Semolina flour (Tesco sell this in their 'foreign foods' section
8g Sea salt
30g Olive Oil
Approx 150g warm water (add enough to make a nice dough)
Mix together and then knead well until the dough is developed.
Leave to rise in a warm place for an hour or more, it should double in size and feel springy.
Stage 3. When the dough is ready
add
2 teaspoons chilli powder and
1 good tablespoon of poppy seeds.
Combine but don't worry if it is a bit 'streaky', it looks quite nice that way!
Divide the dough into 12 pieces (I weigh them so they are roughly the same size).
Allow to 'rest' for 10 minutes.
Roll between your hands into sausage shapes then roll with a rolling pin into long flat crispbreads on a board using more Semolina flour to stop them sticking – they rather resemble 'insoles'!!
Place them onto 2 large baking trays, lined with parchment sprinkled with more Semolina Flour. Sprinkle the tops with some Semolina Flour and quickly prick them all over with a fork, or a tool especially designed for pricking pastry. Cover each tray with a poly bag and leave to allow the gluten to relax for about 45 minutes. Then take hold of each end of the crispbread and stretch them slightly and to put the gluten under tension.
Immediately place in the oven, set at 160c . Bake for 20 to 30 minutes to dry them out and crisp them up. The time will depend very much on your oven. You don't want them too brown, so turn them if the tops start turning and lower the oven temp a bit.
Cool on a wire rack. Store in a sealed bag or tin. You could vary the seeds, but as we love Poppy seeds I haven't tried yet! They are lovely, very different compared to 'bought' cardboard . . . I mean 'crispbreads'! "
Thanks Mildred. You are a star.
Leave a reply