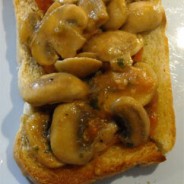 Danny likes a few sautéed mushrooms and a grilled tomato with his Saturday midday brunch. Although they sound tempting they never really appeal to me – I prefer the more conventional home smoked bacon, organic eggs and buttered toast from a homemade loaf. A couple of weeks ago I found some mushrooms and a tomato knocking about in the fridge and decided to experiment. If I simmered them together with a little olive oil, butter and herbs would they transform into something that I would like to eat alongside my bacon and eggs? They smelt...
read more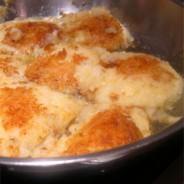 "I'll cook this evening. We'll have the pork hock dish from last night. There is loads of mashed potato left over. How about potato cakes?" Mondays are always busy for both of us. A simple meal seemed perfect. But returning home I discovered that we had no eggs. So I pulled out all the stops and made a new potato cake recipe. If you have an egg to coat the cakes before rolling in flour, it would probably be even better as the cakes would retain their shape. Meanwhile our cakes spread a bit in the in the frying pan but they were...
read more
I love crumpets. The honeycomb texture cries out for butter and jam or honey. Danny picked some up yesterday and I found them in the bread bin this morning. As he was out of the house, I decided to experiment and incorporate one into my breakfast. I would try grilling an egg on top of a crumpet. Hoping that he would return soon I had already grilled some bacon. I set the grill to its lowest setting and put the crumpet, bobbly side up, into a small ovenproof dish. Then I broke the egg over it. It took a good ten minutes to cook. Danny arrived...
read more
It was years before I twigged that kippers are smoked herrings. I've never been keen on herrings but I'd attempt a cartwheel in return for a couple of kippers. It would have to be two kippers. When it comes to a kipper you just can't share. We have Craster Kippers for breakfast on a Sunday. This is the most relaxed breakfast of the week. Comparing notes over the newspapers and savouring every gram of flesh from our kippers. The dogs enjoy the skins. Over the years we have tried many different kippers and consistently the...
read more
We're very keen on a cooked breakfast at the cottage. This is now largely restricted to the weekend. Our chickens give us a good supply of fresh eggs. We used to buy our bacon in 1 kilo packs. A dangerous move as the great slab like pack looked so inviting that we had bacon sandwiches most mornings. A delicious way of jumping a couple of dress sizes in a year. Now I buy just enough bacon for the weekend. Poached eggs have been a favourite with me since I could say "egg". I always thought that you had to have a special poached...
read more
Last Saturday morning I discovered that we had run out of bacon. I unearthed a pack of streaky from the back of the fridge. Weekend breakfasts are important at the cottage. They tend to be indulgent. Danny covered his disappointment with a practical suggestion. "Let's crisp it under the grill and scatter it over scrambled eggs. It would enhance the eggs." He stared at me for a second and quickly added. "I'd offer to make scrambled eggs but you are so much better when it comes to scrambled." It's true....
read more
We've just finished a hearty breakfast of Arbroath Smokies and hot buttered toast. It was Danny's turn to stay in bed, reading the Sunday football supplement, whilst I toiled below.I first saw these fish mentioned in Rick Stein's Seafood Lovers' Guide and wondered what on earth they were. We have since discovered that they are hot smoked haddock. He makes a kedgeree using smokies. We tried his recipe using ordinary smoked haddock and it was fragrant and delicious. I saw them on the Waitrose fish counter a few weeks ago...
read more