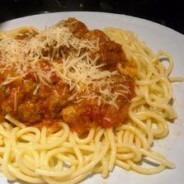 "Please don't buy mince again. I just don't like it." Danny grumbled out of the kitchen. "But you like spaghetti sauce made with mince! That's what I bought it for." The last comment wasn't exactly true. I wanted to make another cottage pie and Danny had somehow sensed this in the ether. "I know that you liked the cottage pie but I didn't care for it." "Oh." My mum always says that I thrive on a challenge. I was determined to make something utterly delicious with the offending pack of mince. Meatballs sprang to mind...
read more
  Waitrose has teamed up with Delia Smith and Heston Blumenthal to produce recipes that customers can make at home. This is quite a clever promotion as you don't have to rush about the shop looking for the specific ingredients as they are all on the display stand. Some of the ingredients had me goggle eyed – such as packs of dried breadcrumbs 125g for £1.25. But I suppose most people don't make their own anymore. I was intrigued by Heston's Boerewors burgers as they were made with a mix of Aberdeen Angus beef and pork. Apparently...
read more
We left the Pickled Walnuts Challenge evening with a box of beautiful blue and greeny blue eggs laid by Magic Cochin's Spice Girls. "I think that those eggs are destined for a frittata." Smiled Danny as we drove away. Our hens have not yet started laying again. I check the nesting box every morning. Our Senior Girls are now into their fifth year, so it will be a slow start. Peace and Hope should be laying by Easter.  So a present of fresh, free range eggs is treasured. We haven't had a frittata for ages. My favourite is the simple...
read more
Fillet of pork is so tender and succulent but sometimes it can lack flavour. Danny bought two packs of medallions from the condemned food counter at Tesco and fried them in a little black butter. He sat down to savour this delicacy with a small proud wobble of his head. Within seconds there was a roar. "They taste just like blotting paper!" When I found myself with a pork fillet to cook, I remembered the shrieks and made a marinade. I used loads of fresh herbs for this. We had a great tip from some friends who used to run a...
read more
We love the recipe for pork chops with tarragon and white wine in Nigel Slater's The 30 Minute Cook, although we have always cooked our chops very gently for much longer (at least 25-30 minutes). Danny started to experiment with the ingredients recently and added fennel seeds. Last week it was my turn to cook. I opened the fridge door and two plump pork chops twinkled from a cool white dish. Great. I planned to make the tarragon and white wine recipe. We use a wine box of dry French wine for cooking. I turned to check that we had some...
read more
I found some calves liver knocked down to half price in Waitrose last weekend and bunged it in the freezer. Danny is a big eater and normally I'd have to shell out over seven quid for the two of us at full price. Generally my trolley wheels glide hopefully up to the calves liver section only to spin silently towards the sausages. It was the first time in five years that I found enough calves liver for under £3.50. I was jubilant as I swung the carrier through the front door. I knew that Danny wasn't impressed but he was too polite...
read more
This is my version of our friend Bunty's delicious sausage and bean casserole. It's delicious and really quick to prepare. She bought a large casserole of this to a party and I spotted someone guzzling it straight from the pot when it was cold. This is a great supper party dish as it keeps warm for ages and just looks after itself. Quick sausage and bean casserole recipe (for 2-3) Pre heat the oven to 210c (190c fan) Ingredients: 450g of plump sausages 400g tin of chopped tomatoes 400 tin of borlotti beans 400g tin of flagelot...
read more