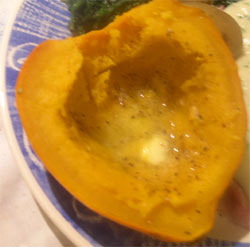 Way back in October I bought an Acorn squash. We had tried a gem squash simmered for 20 minutes and served with lashings of butter and black pepper and loved it.
Somehow the little Acorn squash didn't have quite enough hanger appeal. Day after day it was considered and turned down for supper. Sometimes it would vanish completely and I'd find it behind a bottle of tonic water (its home was beside the drinks tray). A couple of days ago it had totally disappeared. Eventually I found my diminutive friend sitting inside the blender jug that had been left on the side. Perhaps this was a subtle message from Danny?
Nearly 3 months old, its skin had changed colour from green to orange with dappled green. It was still firm to the touch but probably needed to be fast tracked into the pot. I gave it a 15 minute simmer in the asparagus steamer and sliced it in two.
Home matured squash have the sweetest most succulent flesh that I have ever tasted. The dogs loved the fibrous bits on their biscuit this morning. Squash are now right at the top of my seed list for growing this summer.
Leave a reply