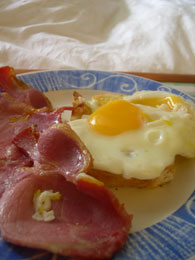 We take turns to make each other breakfast in bed at the weekend. It seems to be Danny's turn a bit more than mine. Yesterday he was served Craster kippers and hot buttered toast with a mug of coffee. This morning I was presented with Fred Fitzpatrick's home cured bacon, eggs from our own chickens and a fresh mug of tea.
I never tire of a good cooked breakfast. Whenever I see a plate of bacon and eggs I think of a memorable meal that we had in Lisbon. We had flown to Lisbon, on the cheap, for a long weekend. One evening we decided to eat early at a restaurant that was not visited by tourists so consequently was much cheaper. The one problem was that the menu was in Portuguese and we didn't speak the language. The waiter spoke no English.
We studied the menu whilst the waiter hovered. We found something in the starter section that we imagined would be some sort of salami. With the bread on the table and the small round cheese that was offered as an appetiser in every restaurant it would be perfect.
We pointed to the menu. The waiter looked surprised. He held up four fingers. No we only wanted one, thanks. Amongst the main courses we had found some sort of baked ham. We'd like two of those, please.
With a strange tone, the subtext clearly being, "And what would you like to drink with this extraordinary meal?" The waiter pointed to the drinks section of the menu. That was easy, we'd like to drink beer.
The beers arrived quickly and after a longish wait I saw the waiter carrying three side plates towards our table. He put the starter on the table with a flourish. It was a small pork sausage. He cut it into slim slices and divided it carefully between us. We began to feel a bit nervous about our main course.
This arrived in a metal pan with a lid. The lid was removed to reveal bacon and eggs. The beer went surprisingly well with the fryup.
Leave a reply