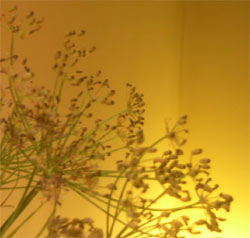 When I started buying my meat from Fred Fitzpatrick (Butcher, Exning Road, Newmarket) we began to eat chops regularly. His pork chops are chunky and cheap and his lamb chops are an absolute bargain compared wth supermarkets. All his meat has much more flavour. Fred clearly has a great eye for selecting the best.
We discovered a good recipe in Nigel Slater's The 30 minute Cook. Pork chops with tarragon and white wine. Danny is a creative cook and his recipe has evolved over the past few years. It is also quite a handy recipe for me as it guarantees time off from cooking. All I have to do is suggest that we try a new method of cooking pork chops and D is in the kitchen within seconds.
The recipe is simple and chic. Delicious with creamed potatoes, carrots and runner beans.
Special Pork chops with herbs and white wine recipe
Ingredients:
2 decent sized pork chops
1 heaped teaspoonful of dry tarragon (or a tablespoon of chopped fresh French tarragon)
10 dried myrtle leaves, diced. (you can find these in the cooks section in Waitrose)
8 fennel seeds
2 tablespoons of olive oil
1 large glass of dry white wine
Method:
Gently heat the olive oil in your frying pan and add the herbs, a litte salt and some ground back pepper. Use a very low setting. Our ring settings are graduated 1-9. We use setting 1 for these chops so it may take 5 to 7 minutes for things to heat up.
Pop in the chops and fry them for 15 minutes on each side.
Add the glass of wine and cover the frying pan. Simmer the chops for 5 minutes (same heat seting).
Remove the chops to a warm place and reduce the sauce by simmering.
Danny added this tip: iIf the sauce becomes dry, a little carrot water is better than adding more wine (carrot water is great when making gravy. But this is another post!)
,
Leave a reply