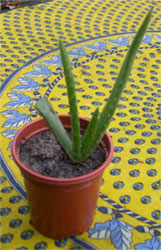 A couple of weeks ago I was admiring Mike Murphy's giant Aloe Vera plant that he had just brought into the house for the winter. This plant is big enough to justify some Christmas lights, when the time comes.
I knew that Aloe Vera is reputed to have great healing properties but was uncertain how to use it straight from the plant. "Just cut off a leaf and rub," another friend had explained a few months ago. I didn't fancy rubbing the spiny leaves on a sore place.  'It's the sap,' she explained. But how to get the sap out, squeeze the leaf like a tube of toothpaste?
Mike set me straight. He sliced a bit off a leaf, roughly two inches long, and sliced the leaf lengthways in two exposing the gel like sap. He demonstrated how to rub the gel onto the afflicted area. When the sap seemed to have run out he cross hatched and scored the inside of the leaf again with a knife, producing more gel. He explained that the effect lasted for a maximum of 24 hours. The bigger the plant, the more effective the healing power. I left the house with a small Aloe Vera plant tucked under my arm. A baby of the giant in his kitchen.
Somehow I damaged my thumb internally last week. Yesterday I woke with a swollen agonising thumb. It was the last day of our holiday and I was planning to spend hours in the garden. Last night I tossed and turned, imagining life without a thumb. This morning I made a rare visit to the doctor. She prescribed antibiotics for the infection. On the journey home I remembered the baby Aloe Vera plant sitting on our bedroom windowsill.
I sliced off a leaf and applied the gel. Within an hour the thumb was bendable, by this evening it was almost capable of doing the washing up.
Tricks and tips:
Aloe Vera is widely used to treat burns, cuts and stings
A cut leaf can be stored in the fridge for a day or so, the chilled gel is very soothing when applied
I found a medium sized Aloe Vera plant in the Fordham nursery garden for £4.99. I'm keeping this one but plan to buy some more for Christmas presents this year
You can buy Aloe Vera seeds at  Thompson & Morgan online.
Leave a reply