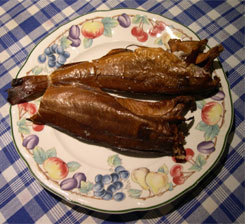 We've just finished a hearty breakfast of Arbroath Smokies and hot buttered toast. It was Danny's turn to stay in bed, reading the Sunday football supplement, whilst I toiled below.I first saw these fish mentioned in Rick Stein's Seafood Lovers' Guide
and wondered what on earth they were. We have since discovered that they are hot smoked haddock. He makes a kedgeree using smokies. We tried his recipe using ordinary smoked haddock and it was fragrant and delicious.
I saw them on the Waitrose fish counter a few weeks ago and, although they were rather pricey, had to try them. Although the smoking process actually cooks them we didn't fancy them cold and looked on the internet to find out a simple way to cook them for breakfast. We waded through endless complicated dinner party recipes and finally found a site that recommended tossing them into a pan of boiling water for few minutes until they were piping hot. Simple! This method works well but be careful to use tongs take them out of the water and shake any excess water back into the pan. When they're hot it's easy to pull away the skin. Serve on warm plates with crusty brown bread or thick buttered toast. Yesterday, I cruised past the fish counter towards the end of the day, looking for bargains. I spotted a couple smokies cut down in price to 89p each (they were ?2.59 a pop last time). They were the perfect breakast for a busy Sunday. Rick Stein's The Seafood Lover's Guide is our favourite fish recipe book, the classic recipe section at the back is a great resource. Judging from the splashes on the pages, we probably use this section more than the more glamorous recipes in the front.
Tips and tricks:
Arbroath Smokies can vary a lot in flavour and texture so we both take a portion of each fish, rather than having a seperate fish each.
By shopping in supermarkets close to closing time, we often find great fish bargains for the freezer. There is no fishmonger in Newmarket, although I've heard that the fish stall in the market place is good.
Leave a reply