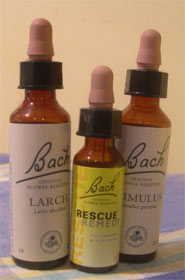 Last year I was working in a friend's house when her husband suddenly rushed past me, opened a kitchen drawer and grabbed some Bach Remedies. He applied several drops of each under his tongue and as he flashed past my step ladder he explained.
"Difficult conference call coming up."
This was a top businessman. A normal guy. I was amazed.
Years ago I spotted Bach remedies in Health Food shops. I loved the complete set of them, sitting in rows in a pretty mahogany case. I wanted to believe that they were effective. Occasionally I have bought them and expected miracles. We had an unopened phial of Rescue Remedy sitting in our kitchen cupboard for so long that the rubber squeezy top hardened and cracked. The arnica cream is in our bathroom cabinet and has the thumbs up for years. I was unsure about the effectiveness of the other remedies.
I like a challenge and generally accept most that come my way as long as the challenge date is far, far away. About two weeks before appearing on Britain's Best Dish I began to have sleepless nights. Niggling nervousness quickly developed into Cold White Fear. How was I going to cope with being in the studio, let alone cook?
I thought the nerves would pass. They didn't. In desperation I rang my pal for their recommended Bach remedy formula. By this stage I would have ingested an armadillo if it might help.
"You need Mimulus and Larch. Squeeze the rubber tops and put a pipette of each into a small bottle of mineral water and sip it all day. If you are in crisis apply a few drops under the tongue initially."
Jalopy and I shot down to Newmarket and headed for Boot's. I bought a new bottle of Rescue Remedy as well. In the car park I opened the bottles and applied under the tongue. By the time Jalopy was reversing into the drive I was calm. I was stunned.
All was well on the day of the filming until my bottle of doctored mineral water was suddenly whisked away and replaced with a glass of water. There was a shriek from me.
"We cannot be seen to be promoting a brand of water."
My mineral water bottle was hidden behind the screens in the area where we were allowed to venture and relax during filming!
Apparently it is unwise to mix more than seven Bach remedies together. Rescue Remedy has a combination of five and the other two make up the magic number. This mixture works brilliantly for me. The little phials live in Jalopy's glove compartment ready for action.
Update:
You can buy Bach remedies online
 at Amazon.
Leave a reply