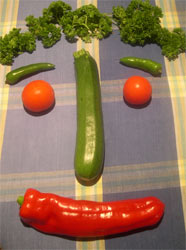 Before we go anywhere, this is not a portrait of Anne Mary.
She has served this dish at every summer party that I can remember. I am not a big eater but having tasted this once I always make a beeline for it. And often return from the sunny garden for more. Under cover of going to fetch a pud, I creep back again for yet another surreptitious taste. This is a perfect veggie recipe, quick and easy to make and very moreish.
AM gave me the recipe years ago but I made it for the first time only last week. No wonder it tastes so good. All that cream and cheese. But there were only courgettes and sweet corn on her list of ingredients and I remembered other vegetables being in it, so I rang AM.
"I use courgettes because this dish can be rather dry." Anne Mary explained.
"Can I use tomatoes and pepper as well?"
"Yes you can bung anything in. As long as you soften them before adding them to the other ingredients."
This is a delicious vegetarian dish, perfect for a party. It freezes well and is perfect reheated. With Danny away, I made this dish and ate it everyday last week. It was great with coleslaw and salad leaves.
Anne Mary's Polenta Sweetcorn Bake (serves 6)
Grease well a shallow oven proof dish. Heat the oven to 180c (160c fan)
Ingredients:
3 medium eggs
112g of melted butter
227g of polenta (maize meal). I used the quick polenta meal and it worked fine.
227g of grated mature cheddar
340g can of creamed sweetcorn (I whizzed up a can of corn in the Magimix)
280g of frozen sweetcorn, thawed and drained
454ml of sour cream (I added a tablespoon of lemon juice to a tub of double cream)
Splash of Worcestershire sauce
2 large courgettes cubed and cooked (I used 1 courgette, 1 bell peppers, 6 baby plum tomatoes, some garlic and a decent pinch of herbs – softened in the frying pan in a little rapeseed oil)
Salt and pepper
Method:
In a large bowl beat the eggs and remaining ingredients and veggies. Mix well. Bake for 45 minutes or until golden brown. Let it stand for 10 minutes before cutting.
Leave a reply