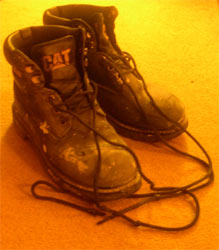 I had an interesting email from a guy that writes the blog – Bay Area Kicks. He suggested swapping links as we had a lot in common. I nipped over to his site for a reccy. It's a blog that focuses on trainers. The ones that you wear on your feet.
Years ago I bought my first and only pair of trainers. Had the idea that it might be good to run everyday. As I struggled past the corner shop I heard a snicker. The trainers never ran again.
I mulled over this American guy and his penchant for shoes while weeding our veg patch. He had hit a chord. With the exception of trainers, I like shoes. I always buy good ones. One happy day I found a vast pile of brand new shoes abandoned in a side street in Covent Garden.
I was a toymaker at the time and my main outlet was a stall in the recently refurbished Covent Garden market. I was there every Thursday and Saturday for ten years.
On quiet days I would ask the stall next door to mind my stall and go off for a wander. This was the buoyant 1980's when the area was a much seedier place than it is these days but just starting to get a bit of a buzz. Shops came and went, seemingly overnight and sometimes the remaining stock would be dumped on the pavement outside.
This is how I met the two best pairs of boots that I've had in my life. Black patent leather Doc Martins and an elegant pair of beautiful handmade leather boots. The former were not really my style back then but they were free and over the years I became very fond of this flashy footwear.
I shot back to the market clutching my spoils and within seconds was minding virtually every stall in the market as most stallholders vanished to scrabble on the free shoe mountain.
At the end of the day I passed the depleted shoe pile. A tramp had set up shop and was selling the last few pairs.
The Docs lasted for years. The dainty pair of handmade boots still live in the wardrobe upstairs along with quite a few pairs of shoes that rarely see any light as I tend to just stick to just a few favourite pairs these days and these are scattered about the cottage.
Ordinary Doc Martin's were my standard work boot for years. Decorating requires a lot of kneeling and I found that the upper toe area wore into holes after 12 months. A couple of years ago I found a pair of half price Caterpillar boots in TK Maxx. I switched allegiance and discovered the wonders of a Rolls Royce boot.
Well made and comfortable they are the perfect work boot if you are on your feet all day and with their sturdy soles they are good on a ladder too. The toes are just beginning to wear and I reckon it will be at least six months before they develop holes. So even at full price they are bargain compared to Docs.
Leave a reply