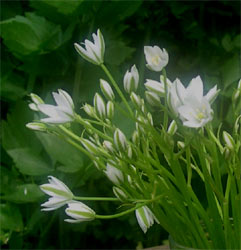 I am working in the village at the moment. A good job working outside in the sunshine for and old friend.
I don't even need to drive to work so Jalopy snoozes in the drive. Sometimes I cross the road to retrieve a tool from her capacious boot or make a fresh cup of tea to take back to the job. For a few weeks I'll enjoy the sort of life that I might have led a hundred years ago. Quiet and sedentary.
I can hear the gentle buff of the cottage door opening and see the place as others must. I can observe Danny, identify the familiar rumble of his engine as he turns left to John's shop or right to Newmarket.
Returning on foot I notice different things. The flowers hidden beside the gate. The butterflies. And today these flowers. If I hadn't come back mid morning I would have missed them. John was in strimming mode.
This is always a bit of a tinder box each spring. John wants things to look neat. I want the daffodils to die back. I knew that he was eager to tidy when he leant back in his chair, put down his mug and announced.
"I've got the strimmer in the boot. I could clear the front. You know there's a long bank of Daffodils on the turn into Mildenhall. They are cut down straight after flowers each year and it doesn't affect them flowering the next year."
He gave me a strong look and added.
"They make a lovely show."
We agreed that if he had time he could tackle the front. Avoiding the daffodils.
I returned home mid morning to find John examining Jalopy's voluminous interior.
"I need the extension lead!"
He pointed to the giant roll of cable lolling on the back seat. Jalopy was locked.
As John passed Danny the plug through the sitting room window I noticed these beautiful flowers. I have never spotted them before. John started working in the garden much later this spring. Perhaps they have always been there and strimmed before they had the chance to flower.
Even though John was poised on the starting blocks, strimmer in hand, the race was delayed as I picked this bunch. In the sunshine they were open wide like tiny white stars.
Has anyone out there any idea what this flower is called?
Leave a reply