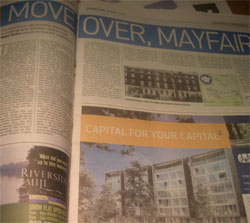 Danny and I have never been ones for lavishing the credit card on each other when it comes to Christmas. We decide the ceiling in November and work around that.
"Does this ceiling include our stockings?"
"Of course."
The limits are then raised by £10. A good £10 stocking can put the Main Present in the shade. The secret is to start looking early.
Nothing beats a good stocking. It is the heart of Christmas for me. Like a secret kiss. An extended moment of indulgence without the formality of opening a present with a family audience. The best stocking that I ever had was a simple stocking that my sister gave me (ceiling £5). It was full of tiny, thoughtful and fun surprises. A joy.
For the past two years the limit on the main present has been £20. This is quite canny as twenty quid is more than we would spend on a whim. So generally there are lots of twenty quid presents that we have seen and wanted during the year. However, in November, the twenty quid genie has vanished. We are struggling.
This evening I arrived back from work and announced that I knew what I would like for Christmas. A little device that makes briquettes from your old newspapers and junk mail. I am so busy at the moment that I don't have time for more than a cursory glance at the newspapers before they are wedged into the boot of D's car and eventually taken to the recycling bin at the dump. I know that this little wizard has been around for years, I just haven't got around to adding it to my list.
Danny spun round from the oven
"This is weird. I was planning to ask for the same present from you!"
I shot onto the internet and read the reviews, which got me nowhere. We have ordered a briquette maker from this guy on eBay. There is another well reviewed (just the one), discounted on sale at amazon.co.uk briquette maker
. Apparently you can add loads of other ingredients to your briquettes. Dry leaves, olive stones, nut shells, twigs, tea bags and anything that is dried out and beefy.
Leave a reply