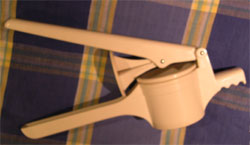 Where would I be without my potato ricer? If Danny makes mashed potato he pounds away with an old fashioned potato masher. I used to do the same and however long I spent, there were always lumps. D was polite and ate them but I always felt that secretly he was thinking that his were far better. And they were.
Rising to the challenge, I secretly asked around for a solution. Some friends used a masher, some took this a step further. They mashed and then applied an electric whisk
to the pot. Additions of butter, milk and cream were complex extra instructions. My head whirled. Just one friend was succinct, "I use a ricer."
What on earth was a "ricer"? She slid open a drawer to reveal an implement that looked like a enormous garlic press. A ricer works on the same principle as a garlic press. Just bung in boiled potatoes and press. The end result is a pile of worm-like mounds of fluffy, airy potatoes. Butter, milk, olive oil, cheese or whatever you want can be folded through the worms and within seconds you have a perfect lump free mash.
I whizzed home and found Danny.
"I've probably discovered the solution to my lumpy mashed potatoes."
He immediately turned from the screen.
"We have to get something called a ricer."
Danny volunteered to go to the John Lewis kitchen department the next day and by six in the evening I was examining a sturdy ricer as a large pan of spuds simmered on the hob.
It's easier to use than a garlic press. Cooked potatoes are softer than a garlic clove and our ricer is a precision instrument. It makes great mashed potatoes without the possibility of sustaining repetitive strain injury. We checked around and have found a similar potato ricer
here. And I've recently found the Original Gefu Potato Press
 here. The latter is a must for kitchen equpment freaks!
Tricks and tips:
Mashed potato keeps warm in a low oven for quite a while. I put it in a large dish, cover it with a couple of butter papers and top everything with tight fitting aluminium foil. If you don't have butter papers rub a little olive oil onto the underside of the foil.
If you'd like mash with a crispy top. Fork the surface, scatter tiny nuggets of butter and/or cheese over the top and pop under a pre-heated hot grill for 2-3 minutes before serving.
Leave a reply