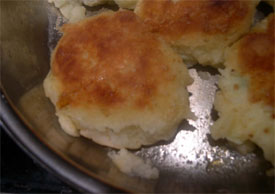 Whenever I make mashed potatoes I make a double amount so as to have enough left over to make potato cakes. Usually, my potato loving partner sniffs out the remains, however carefully I have hidden them. It's my fault entirely. I tend not to announce future culinary plots and plans. But this week I did.
"I'll cook tomorrow and make you potato cakes, if there is any mash left."
The uplifted arm dropped and the saucepan lid was replaced immediately.
Potato cakes are easy to make and are real comfort food and somehow a bit more special than simple baked spuds. It's the combination of crunch and billowing softness that makes them a superb treat.
We fry our cakes but I'm sure they'd work well baked in the oven. Watch this space. The secret of perfect potato cakes is to fry them slowly at a low temperature. I give them at least five undisturbed minutes before considering turning them.
Using a fish slice take a peek under one. If it is golden brown they are all ready to be turned as the crisp coating will hold them together. Wait until they have reached the golden brown stage and keep an eye on the clock so that when you turn them you can give them roughly the same time for the other side, minus a couple of minutes.
If you are loathe to sacrifice a cake to allow for extra manoeuvring space in the pan, remove a cake to a separate plate so as to turn the others easily and then pop it back to brown with the rest.
Potato cake recipe (2-3 portions)
Ingredients:
Cold mashed potato (made from 3-4 medium poatoes)
1 clove of garlic (crushed)
1 teaspoon mixed herbs (chopped fine)
1 beaten egg
4-6 tablespoons of plain flour (seasoned with salt and ground black pepper)
2 tablespoons of Olive oil or goose fat for frying
Method:
Heat the oil or fat in the frying pan over a low heat.
Add the herbs and the garlic to the cold potato and shape the potato into small cakes (approx 6cm diameter and 2cm deep).
Dip each cake into the beaten egg, coat with plenty of flour and place gently in the frying pan.
Leave the cakes for at least five minutes. Ideally the underside should be a golden brown colour.
When you turn them add a little more oil or fat if the pan is dry and fry for a further five minutes.
Leave a reply