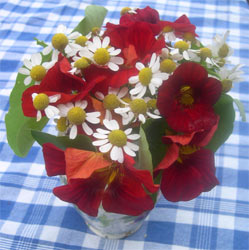 I haven't bought flowers for the cottage since January 2007. This has saved money and fast tracked the development of the herbaceous borders. Although we have now have quite a wide range of plants that flower in July, I've chosen an edible posy of flowers for this month's entry. Nasturtiums and feverfew.
I've always had a soft spot for nasturtiums ever since I spotted that the guinea pigs in a Beatrix Potter story were using them as parasols. We have nasturtiums growing in the kitchen garden. John Coe thinks that I'm mad as he likes to see neat rows of vegetables and nothing else. I chose the trailing varieties so that they'd scramble between the rows. If they look as if they are beginning to take over they can be harvested easily.
We eat the flowers, stems, leaves in salads. They have a peppery taste and are packed with vitamin C. Don't harvest them well in advance as they can turn bitter if left for too long. They also contain an anti bacterial agent that mimics the effect of penicillin. Yesterday The Chicken Lady found a recipe for pickling the chubby seeds in an old book – they taste a bit like capers treated in this way.
The leaves of feverfew are a well known alternative remedy to treat migraine headaches.
I planted nasturtium seeds for the first two years, now they self seed every year. Feverfew grows like a weed in our garden, preferring the sunniest spots.
Leave a reply