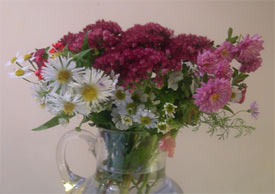 It's the tenth month of flowers from the garden. Last January I decided not to buy flowers for the house for a year. The benefits would be two fold: I would save loads of money but also I would be encouraged to focus more on our herbaceous borders. It has been an absorbing challenge.
When I started gardening here (fifteen years ago), I concentrated on flowers in this garden. Slowly, edible produce has diverted my attention and the herbaceous borders have declined. Since I made the decision not to buy flowers I have planned and planted new perrenials, in a tiny way. The garden has begun to sing again albeit in a quiet way. I can hear the music even if it's just the tootles and scales of an orchestra tuning up. I have been strict with myself here too. Just buying plants from wayside stalls, in the main.
Not buying flowers has been moderately easy for the last four months. There has always been something to pick in the garden but as I had a (former) rule not to pick from the garden, this always hurts. The garden flowers don't last as long as a bunch from a supermarket (no extend-their-life-chemical sprays). But the bunches have an innocent softness that has grown on me as the months have rolled by. Now I realise that if you have flowers in your garden to pick, they are the Champagne of flowers, however long they last. Supermarket flowers have a more formal quality and stiffness. They are, at the end of the day, just like a good dependable table wine. You know from the label, how long they will probably last. They are decorative but simply don't have the spirit of a home grown bunch.
This posy contains Sedum (this dazzled Danny who hadn't spotted it in the garden), white Michaelmas daisies. Tiny pink chrysanthemums bought from a wayside stall in the spring in Debden, Essex. Fusicas, one shrubby pink one – a present from our friends Jocelyn and Miles and an annual star that is just about to burst into flower. There are also the last two sweet peas, Comfrey and tiny Nemisia. Annuals include Thousand Bells (flowered all summer without dead heading), Verbena and the white pelargonium that flowered last year in my mother's window boxes. The bunch has been picked for two days and is just going over but has given me so much pleasure as it is beside my laptop.
Leave a reply