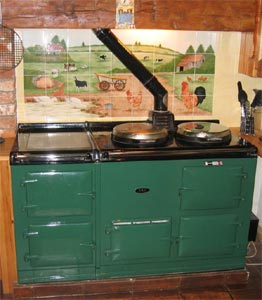 Chris and Louise live in Wiltshire and are proud possessors of an Aga. We don't have one, sadly, and are extremely envious. An Aga tends to be the hub of most happy houses that we visit. Our long term plans are to install one. When Chris wrote to me and described making friends with his Aga, I knew that it would be of interest.
Danny, a romantic, has dubbed it a love story.
Guest spot: In praise of the Aga by Chris Nelms
Louise and I were fortunate to inherit a nearly new four-oven oil-burning Aga when we bought this house. We had no experience of Agas and no friends with Agas. I trawled the Aga website for information; it was strong on sales blurb but weak on what it's actually like to live with one.
In an act of cowardice, we splashed out on a matching Aga Companion electric cooker, expecting to cook with this rather than the scary Aga. After all, Agas have no knobs to control the heat so how could any serious chef cook on such a primitive appliance?
How wrong we were. Within weeks we were converts. The electric cooker has been used only once in seven years. The faithful Aga has won a place in our hearts and we cannot imagine life without it.
Unlike some Aga owners, we leave ours burning throughout the year. In winter, its cosy warmth makes the kitchen the natural centre of our home. The heat spreads surprisingly well through the house and we suspect it earns its keep by saving on heating bills. Just as well because it burns about 8 litres of heating oil a day or ?900 a year. Quite an expense for what is essentially just a cooking appliance.
I found an ex-Aga engineer on the internet selling detailed servicing instructions and do my own annual servicing in 20 minutes, saving ?100.
So what's it like? Well cooking with an Aga is simplicity itself. The absence of knobs makes life easier, not harder. Louise has progressed from being a fairly good cook into a veritable kitchen goddess. Delicious meals emerge from the Aga every evening without fail. The weekend shift is mine.
It's just so forgiving. Synchronizing different components of a meal used to be challenging but now, with a warming oven and a simmering oven as well as the main baking and roasting ovens, any food that's ready too soon can be parked without spoiling until required. Rare steaks can be rested, plates warmed, etc.
A full English breakfast or traditional Christmas dinner with all the trimmings is easy and fun. Cooking for guests is no longer stressful. Aga toast is better than from any toaster, dough proves perfectly on the warming plate, beer and wine ferment nearby, damp clothes dry on the front rail, children's pyjamas warm before bedtime.
Arriving home after a day out, the Aga is instantly ready for action with no waiting for an oven to heat.
Disadvantages? Very few. In the height of summer we get a few more flies coming into the kitchen, and a prolonged cooking stint leaves one rather hot. The cooking smells go up the chimney rather than into the kitchen so a forgetful cook can easily be unaware that something in the oven is burning.
Otherwise it's just a matter of environmental conscience: an Aga is an extravagance, burning fossil fuel around the clock. We offset the guilt in this household by heating the remainder of the house with three wood burning stoves.
At the risk of sounding over-dramatic, owning an Aga is a life-changing experience. Anyone who loves food and cooking will never look back. If in doubt buy a few books by Aga cookery experts such as Louise Walker and Mary Berry and read what they say. Get one if you possibly can and, ideally, invest in a four-oven model. You will not regret it.
Rather as a lover of wood fires wouldn't contemplate life in a house without a chimney, an Aga convert couldn't imagine a kitchen without an Aga.
Leave a reply