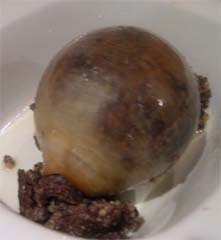 My paternal grandmother came from the Shetland Isles. This must be why I feel an affinity with Scotland. I've only been there once. I was flown to Edinburgh for a posh Christmas works outing about six years ago. It was great pottering in the little shops in the roads that lead up to the castle. The meal was pretty good too, despite the crazy office politics.
Danny and I are planning a long trip to Scotland, starting with the sleeper from Kings Cross. Plotting this trip is as enjoyable as the trip will be. It could happen anytime over the next 100 years.
Meanwhile Danny's hunting Stewart scarf is snaffled when I have the chance, as this is my tartan. We dip into all time favourites from across the border. I love whisky, shortbread, homemade oatcakes, men in kilts, the sound of the pipes, drop scones and haggis. This evening we celebrated Burns night with a dinky little Haggis and a very good bottle of wine. Danny did his duty on the whisky front. As we had forgotten to check our whisky stocks I toasted Robbie with a dram of vodka. I wonder if it had even been invented in his time?
Tips and tricks:
Haggis freezes well. So if I spot them on offer I buy in bulk and freeze them for a Scots fix later in the year.
Haggis are precooked so all you are doing is reheating when you put them in the oven. if you are in a hurry you can cut them in large slices, wrap them in foil and bake them at 180c (160c fan) for half the time that it says on the pack. This reflects a bit on the overall taste. In England, probably no one would notice as most people are nervous about haggis and will be delighted that yours is tasty. However, never admit this indiscretion to anyone from over the border.
Leave a reply