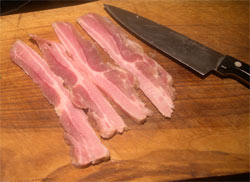 This morning we decided to taste some of our bacon. We made it with Boston Baked Beans in mind but there was a bit too much for the recipe so why not test it out for breakfast?
This little 600g belly of pork joint had been loved and cherished for three days. It had even hung in the Inglenook chimney, over the warmth and smoke of its very own log fire.
When I stood inside the sturdy hood and reached up for it the next morning, the pork had a deep smoky smell. I popped it in the fridge in an airtight container.
Slicing my own bacon this morning was wonderful. As it sizzled under the grill, I was on tenterhooks imagining its possible flavours.. Eventually it was cooked, along with our own eggs and some superb granary toast.
We sat down in triumph.
It was salty. Very, very salty. I could taste the smoke beyond the salt. Danny could only taste salt. We ate it in 2mm square cubes that topped heavy forkfuls of egg and toast.
This morning I had to drive to a nearby house to quote for a job. I was so thirsty afterwards that I had to drive home for a large cup of tea rather than go to Newmarket as planned.
I remembered that Mike had simmered his salt pork and tossed away the salty water before adding it to the beans. So I sliced a single thick rasher of bacon and put it in cold water to soak. I reckoned that I'd be gone for two hours but it was four hours later by the time I got back.
I put it under the grill. Within fifteen minutes Danny was drawn down to the kitchen by the sweet smell. It had a delicious home smoked bacon flavour but was a bit bland. We reckoned that a four hour soak was too long.
We had made great bacon but it could be even better. The bacon tasted much better than the commercially produced packs. It didn't shrink or sweat water.
Since then the whole project has expanded. I have trawled the Internet for curing tips and realised that I had made errors. I didn't rinse the belly of pork when I took it out of the brine which would have had effected the saltiness and also did not leave it out to develop a pellicle This apparently helps with the smoking process,
I bought some loin of pork from Fred's to have a go at making some back bacon. I am going to drop the saltpetre, add some sugar and spices to the mix and be much more hands on this time. I am going to halve the joint, dry cure half and wet cure and smoke the other. Ideally, next Saturday I can play with the joints, grill a bit, soak and adjust if necessary.
We're excited about this project. Next time the inglenook hosts a slab of bacon, I am going to be there warming my toes and relaxing in the big armchair with the sheepskin back.
And Danny added a future scenario.
"Wouldn't it be great to feast on our own home grown raspberries, topped with our own yoghurt, followed by home cured bacon, a handful of our eggs and a slice of our own granary bread."
Our yoghurt is now homemade. So is our table butter. I'd love to be slicing our home cured bacon and bread. Watch this space.
N.B. I followed Hamster's advice (in the comments below) and soaked the joint of streaky bacon (salt pork) before adding it to the Boston Baked Beans. It was perfect!
We have now developed a good recipe that's not too salty.
Leave a reply