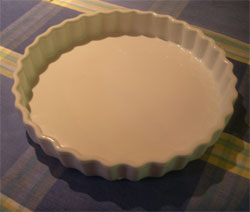 I was given a really good tip today from a quiche maker. She sells quiches to her local deli.
"Do you know how to avoid soggy pastry?"
No, I didn't. I never make quiche as D is not a fan. I love it and occasionally buy one for a girly lunch. Mysteriously Danny always vanishes with the remains.
"Well there is no need to bake the pastry blind (pre-bake). All I do is make my pastry and line the buttered dish. Using a fork, prick the base in several places. Then brush the pastry with beaten egg. Let this harden until it is just tacky. Then add the filling and bake the quiche."
She claims that the pastry at the base of the quiche is never soggy. I can't wait to try this and suspect that D might be tempted by a small slice in his lunch box.
Leave a reply