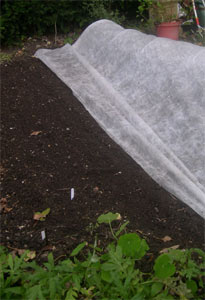 My mother and stepfather were both talented amateur watercolour artists.
They rented a chalet in the Swiss Engadine for a month each summer when we were growing up. They spent their days painting.
I used to refurbish Henrietta's wardrobe. She was my rag doll. Much loved and a great model for my creations. Later I moved on to reading and dreaming.
As he set up his easel, my stepfather always announced each painting as "an exercise." These two words insured against failure. If a painting was a success, then the announcement was forgotten. But he could never resist tweaking a painting in the evening, daubing with a small sponge and repainting. He ruined many paintings.
My mother did not trumpet. She  just jumped straight in and painted a picture. Beautiful fresh paintings that were wisely packed away at the end of the day. Fiddling always spoils the freshness of a watercolour. The secret is in the experience and quick execution. There's no going back.
Similarly, it is well worth taking some time preparing a seed bed in the kitchen garden. It's so easy to get carried away with the prospect of planting the seeds such that you keep soil preparation down to a minimum. Well prepared soil will help your seedlings grow. Once they are scattered there is very little that you can do to change the quality of the soil.
I've often taken the speedy route by roughly digging over the soil, raking and scattering my seed. Generally the seeds germinate and we enjoy the crop. But there's always that niggling doubt. If I'd taken a bit more trouble preparing the bed before I dived in, would the harvest have been better?
So last weekend I spent a good three hours preparing a 12'x12' (3.5 x 3.5 metre) bed for garlic and winter salad leaves. I dug it over and then used the claw tool as a mini plough. I dragged it diagonally, vertically and horizontally until I had created the sort of bed where I'd be happy to curl up and sleep all winter.
Then I applied a thick layer of compost from John Coe's grass clippings pile plus a lot of wood ash, chicken poo and rich compost from our composter. These were raked in using the trusty claw tool. Finally I scattered some Growmore and quickly raked it in because Inca thinks this is a bar snack  for Min Pins.
I took so much trouble because I'm trying the "Gardening Which" magazine's advice for growing salad leaves under a fleece over winter. They suggest sowing the seed in the greenhouse mid September and then putting the plantlets out mid October. Unfortunately, I'm a month down the line. So I'm planting seed directly into the earth. The results may be zero but I'm giving it a go, hoping for warmish sunny days. Gardening fleece looks very thin to me but perhaps it will do the trick.
Buoyed up by Hedgewizard's poly tunnel experience – he has written a book on it soon to be published, I bought a fairy size tunnel a while ago. This is the long cylindrical dead body that you see languishing under the fleece. This project is not "an exercise". I'm expecting that we'll have some leaves to chomp in six weeks time. There are three unprotected rows that need to be frosted when the time comes. They are planted with garlic. Bought from The Garlic Farm at the Hampton Court Flower show and dried out with care.
Danny ranged out of the Rat Room to inspect the earthworks.
"Are there supposed to be holes in the fleece?"
"Not really. That's where the mice made nests last winter."
In an instant, I decided to try growing salad leaves in the greenhouse. Just in case.
Leave a reply