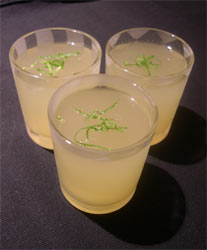 My sister has just come back from France. She was visiting friends who have retired and moved there. She came back bursting with sun and stories and this recipe.
I halved the amount. It filled three 100ml glasses. I used two small limes as I reckoned that the limes in France would be bigger than those that I found in Waitrose this evening. Our flowering elderflower heads are small – clearly young, first of the season. So I used what I thought would be the equivalent of 2.5 large French heads.
This was the final course of a snacky lunch for my mother. She eats a lot of jelly so it seemed the obvious choice for a pud. Apparently the girl on the Clinique counter at Robert Sale tipped that the way to get strong fingernails is to eat a square of jelly a day. Whenever I shop for my mum, there are always a couple of packs of jelly on her list.
This jelly is exquisite and a doddle to make. The elderflowers give a buzzy zingy fizz to the lime. Forget the snacky lunch, this is dinner party food.
Judy's elderflower and lime jellies recipe
Ingredients:
3 limes
4 sheets of gelatine (or 0.4 powder)
110g granulated sugar
425ml of water
5 large elderflower heads
Method:
Grate the zest from the limes (save some for decoration – blanched) and squeeze the juice.
Soak the gelatine in cold water for five minutes and drain.
Place the sugar in a saucepan with the water, bring to the boil, add the elderflower heads and simmer for five minutes.
Remove from the heat and add the gelatine. Stir until dissolved.
Stir in the lime juice and zest and allow to infuse for five minutes.
Strain through muslin. Pour into glasses, cool and refrigerate.
Leave a reply