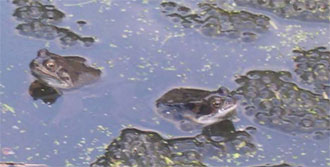 We might not have bees but we have frogs. Loads of them. These are the descendants of the London frogs that my mum raised in an aquarium in the kitchen, 14 years ago.
If frogs travel away from your garden they will return in the Spring to breed. This is a humdinger of a party. The frog fest in our pond is 24/7. When we open the back door we can hear the low sonorous croaking. This is a constant bass addition to the bird song. Except the birds sleep. The jolly in our pond will continue for at least two weeks. The croaking stops when I walk down the garden as they are shy creatures. I hear a cacophony of plops as they dive under the carpet of frog spawn when I pass by. Within a minute I hear the first brave croak, answered immediately by a chorus. They are just getting into their stride when I return from the chickens. Silence for 30 seconds and then back to their age old theme tune, Amorous Frog.
Toads return each year. With toads it's a much more genteel affair. These are the quiet guests that retire early to rooms well away from the bar.
When I bought the cottage there were no frogs here. There was one very large elderly toad and a few newts.
I was keen to have frogs in the garden. They are great for slug control and anyway, I like them. So I asked a local child if he knew where I could find frog spawn. He looked morose and shook his head. When I mentioned that the bounty on the head of a bucket of frogspawn was five pounds, he focused immediately on the task in hand.
Within a week I had the frogspawn. The little boy visited relatives in London. Travelling by coach with his mother, they had experienced a rather damp return trip as the bucket sloshed between their feet.
So our frogs are the progeny of city slickers, forced to move to the country. I wonder if, deep down, there is the need for noise, clubbing and bright lights. Albeit once a year.
Leave a reply