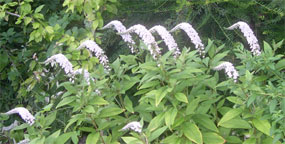 Last week I was amazed to discover that we now have the floral answer to Meercats. Nodding in the breeze and gazing across the pond. I'd love to know what this plant is called. Does anybody out there know? Until then it will be Meercat Intelligentsis v. Fascinated, as it appears to be absorbed by the view.
Last autumn I decided to replant the border on the south west side of the pond garden, where nothing much thrives. I gave the border a deep make over and discovered enough stones to provide the hardcore for a small castle and mile long drive. These are stored in a mountain under some leylandi that are due for the chop. Any offers accepted.
I had already bought most of the plants for this border from the stand outside the Secret Garden before I became engaged in heavy excavations. So the pots of promise knocked about in the garden for a good couple of months. Small plastic plant name tags are attractive to Min Pins. By the time, I had removed the stones, tiles and bricks from the border and plumped it up with compost and several shovel loads of rich food from our composter, most of the labels had been eaten.
I examined the pots carefully. The bigger plants with the hefty root balls were planted towards the back of the border and the more gnome like plants in the front rows. The Meercat Intelligentsis is taking pride of place at the back.
I am also growing Monarda (Bergamot) in our herb garden. Somehow they remind me of ostriches. It must be something to do with the long stems and feathery flower heads. I wouldn't be surprised.if I discovered one morning that the flowers had beaks.
Monarda leaves can be used as an infusion to treat headaches and fevers. The leaves can also be added to salads. Be warned, a 3mm bit chopped extremely fine will suffice. It is packed with heavy aromatic flavours. I suspect that an infusion of this would make one ignore a headache with just one sip. It would certainly clear the airways in an instant.
Leave a reply