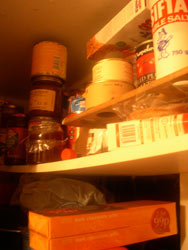 The larder has been driving me nuts.
We have bought loads of dry ingredients for our vegetarian drive. We've also been overwhelmed by events and have not had time to organise the space. The result is a rammel nightmare which would have a normal person weeping at dawn.
A couple of weeks ago I got up in the middle of the night and wrote LARDER on the calendar across the four day Easter weekend slot. Although we have our own answers to the Leaning Tower of Pisa, cleverly fashioned from a selection of disparate unopened tins and bottles, things had finally erupted out of control. The larder was a hazardous place. Ingredients were guzzled by the black hole within, the instant that they were tossed inside.
I knew exactly what we needed. A few half width shelves, in between the bendy melamine ones that were already in the larder when I arrived at the cottage fifteen years ago. Unfortunately, Homebase and B&Q no longer stock the slim budget shelves. So I had a poke around in the barn and ran up my own from some offcuts that I'd been saving for years. Useful rammel
The dogs didn't like it. Partly because of the noise of the drill and circular saw but mainly for being told to stay in their beds or risk getting entangled with a shelf, trailing cord or something sharp rotating at 1200 RPM.
Inca eyed me from beneath her blanket with the disdain of a trophy wife who has never mouthed the words "vacuum cleaner".
I have reorganised one third of the larder. Having shown off my finely crafted prototype shelves earlier in the evening, Danny was finally summoned down from the Rat Room to inspect them in situ.
"Wow! It's just like a proper larder."
"Here's a space. What shall we put there?"
"Don't worry. Just leave a gap. It will fill up fast."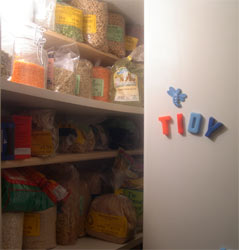 For a not so tidy Virgo, the experience has been cathartic. Thank you Amalee for the nudge.
Leave a reply