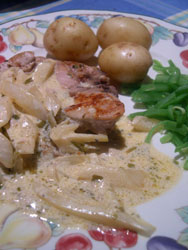 We love the recipe for pork chops with tarragon and white wine in Nigel Slater's The 30 Minute Cook
, although we have always cooked our chops very gently for much longer (at least 25-30 minutes). Danny started to experiment with the ingredients recently and added fennel seeds.
Last week it was my turn to cook. I opened the fridge door and two plump pork chops twinkled from a cool white dish. Great. I planned to make the tarragon and white wine recipe. We use a wine box of dry French wine for cooking. I turned to check that we had some but there was a large gap where it usually stands.
Dry sherry is a reasonable substitute for white wine and we had some of that, although the taste is richer than white wine. I also found a bulb of fresh fennel. I set to work.
The combination of fresh fennel and pork worked well. Be careful not to let the fennel soften too much. The fresh fennel has a definite bite that balances the dense porkyness of the chops. Richer than the clean taste of the tarragon and white wine recipe but an excellent elongated twist.
Delicious pork chops with tarragon, dry sherry and fresh fennel recipe
Ingredients:
2 chubby pork chops
1 tablespoon of olive oil
1 tsp of lemon juice
100 ml of single cream
1 Tablespoon dried tarragon
2 Tablespoons of dry sherry
3 x 0.5 centimetre slices of fresh fennel (chopped into 2 – 3 cm lengths
1 bay leaf
Salt and pepper to taste
Method:

In a large pan gently heat the olive oil and add the tarragon (3 on a 1-10 hob setting).
Chuck in the pork chops 15 minutes the first side and ten minutes the other.
Meanwhile immediately add the sherry, the bay leaf and lemon juice.This sherry tarragon mixture will infuse and tenderise your chops. Try and keep a gentle simmer going adding more water if necessary.
When you turn the chops over add the fennel. Swoosh this around in the pan. A simmer of 10 minutes should cook the fennel (and retain a slight crunch) The fresh fennel definitely imparts an extra élan to the sauce. When the chops are tender, remove them to a warm plate.
Add the cream to the sauce and simmer for a couple of minutes until it thickens.
Leave a reply