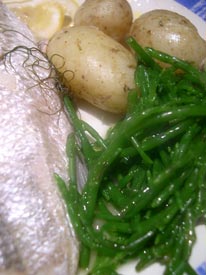 Do you remember the craze for cooking fish in little foil parcels in the oven? I was looking through some old Waitrose recipes and I thought that I'd try baking some sea bass in them. It worked well and infused the fish with the fennel and lemon flavours. It was easy too, giving me some time to potter in the garden whilst it baked in the oven. We served the bass with the first new potatoes from the garden and warm samphire.
Sea bass baked with wild fennel and lemon recipe
Set the oven to 220c (200c fan)
Ingredients:
2 sea bass, cleaned, without heads
Half a lemon thinly sliced
4-6 sprays of wild fennel leaves
50 ml of dry white wine (or a light fish stock)
Method:
Make two roomy boat shaped parcels using the foil that would allow for space around the fish when they are closed.
Put a sea bass in each one.
Tuck the fennel and lemon inside the fish and pour 25ml of white wine over each bass. Carefully crimp the parcels closed and bake them on a baking tray in the centre of the preheated oven for 20-25 minutes.
The lemon slices and fennel look pretty so serve them with the fish, with the juices from the parcels.
Leave a reply