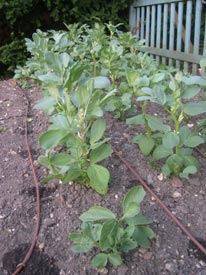 I've spent the afternoon playing with water. There's nothing more relaxing. Especially if you know that your system will save time, energy and water throughout the summer.
There are loads of watering systems available for your garden. The ones that run from butts appealed to me as they are environmentally friendly by reducing mains water usage. We now have six small (250-300 litre) butts and a large 1500 litre one. We have another large butt waiting in the wings to be linked up. We have four sheds that potentially could feed another 4 – 5 butts, if we put up guttering. Once we get our act together we could be collecting over 6000 litres of free water for our garden, when it rains hard for a few hours.
Of course the butts quite often run dry. But if they do, and you have to fill them with mains water, you know that you are making the best possible use of the water. A drip system is efficient and effective. A little water goes a long way. There is far less evaporation than using a mains hose or a sprinkler.
When you have a system up and running you welcome rainy days. I often stand out in the rain to hear the jingle (small tanks) and echoing jangle (large tank) as they refill. Meanwhile the rain is watering your garden so you can save your stores.
We started using a drip watering system because we are on a water meter. Mains water is pricey. Within a few months I realised that our system gave us far more than the water bill saving. The quality of rainwater is better and our system makes far more efficient use of every litre.
I am a strong believer in low maintenance. Herbaceous garden (low). Kitchen garden (moderate). Danny (low to moderate). Min Pins (high – thank God they don't need to be watered much). When I get home from work I just have to turn on a few taps and then relax as the garden waters itself.
We use the drip feed watering system for our fruit and vegetables. The herbaceous borders have just have a small butt. This is handy for watering the pots along the back of the cottage but the second giant butt could automatically water both the pots and the herbaceous borders if we hooked it up to the guttering at the back of the cottage.
Everyone says that it's going to be a hot summer. Drip feed watering systems use water so much more efficiently than a hose or a watering can. As the water is distributed slowly capillary action takes place. The water seeps into the soil to a depth of six inches in a radius of eighteen inches from the drip point.
When you operate the system in your garden it looks weedy until you dig down. It does what it says on the box. Deep watering with minimal water.
We pack away the drip feed water pipes in the winter. Despite this, they still attract the occasional earwig. I have devised a masterly way of clearing the pipes using a small party balloon pump.
However carefully I have stashed the components, I always find that I've lost a few vital parts so I go online to my supplier http://www.gardensystems.co.uk/ who are friendly and efficient. The bits and pieces usually arrive within a few days.
I started off my venture into drip feed watering systems with a kit from Garden Systems so as to play about with a small system and modify it. Now I have a more extensive system and this evening sent off for more water butt pipe and a few hose to water butt pipe adaptors (these are essenial for diverted water) so order a few extra if you order a kit.
Leave a reply