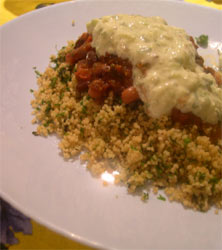 So many vegetarian recipes are high in fat with an emphasis on cheese and eggs. These ingredients can pull a flagging recipe round in seconds. We sometimes eat these dishes – the cheese and eggs make tham tasty, I'm cooking for an alpha carnivore foodie after all.
Last night I woke at three a.m. and mulled. Surely, with a bit of thought, I could make veggie food that's low fat and delicious.
This morning I opened an eye to the promise of thunderstorms. I was suddenly kitchen bound as I'm working on an outside job at the moment. So I decided to try and create a good veggie recipe that was virtually fat free.
The slow cooker (crock pot) makes low fat cooking a doddle. There is no need to fry onions or even touch a bottle of cooking oil. All you need is time. The casserole took about six hours to cook so if you are out a work you would need to set your timer for seven hours and set the dial to auto. The extra hour will allow all the ingredients to heat up. The turtle beans are tasty, albeit tough beans. Well worth the wait.
The combination of beans and vegetables can create a wintry sort of flavour. I've finally twigged that if you add fresh finely chopped vegetables such as bell peppers or tomatoes and some fresh herbs a few minutes before serving, the dish suddenly has much more pizzazz. The fresh clean flavours and colours balance the mellowness of the slow cooked beans and vegetables. The transforamtion is incredible.
The side dishes make an enormous difference too. I served this with a herby couscous (having read Mark Hix's take on tabbouleh in The Independent on Saturday) and a cucumber, garlic, spring onion and mint raita (run up in seconds in the Magimix
) and stirred into a creamy sheep's yoghurt (5.8g of fat per 100g and worth every gram). Incidentally, Mark Hix also smokes meat in a casserole dish – and the method is in the link above!
Although I'm enjoying our vegetarian adventure, meat is often in my thoughts. Just as I was thinking that some tender slices of pink lamb would be perfect with the summer bean casserole, Danny reached for the ladle and said.
"When you cook like this I don't miss meat. All three dishes would be fine on their own but the combination is astounding."
He's right. Often a blob of veggie goodness on a heap of rice just doesn't tempt and tantalise.
The slow cooker chef: low fat summer vegetable and bean casserole recipe (4-6 hungry portions)
Ingredients:

For the casserole:
100g of black turtle beans (soaked for ten hours)
100g of black eye beans (soaked for ten hours)
50g of small brown lentils
50g of red lentils
400 ml of vegetable stock (boiling water and 2 tsp of vegetable stock powder). This may need to be topped up if the beans are getting to dry
200ml of passata
1-2 fat cloves of garlic – chopped fine
0.5 tsp of smoked papricka
2 heaped tsp of Dijon mustard
1 tbsp of mushroom ketchup
1 tsp of Lea and Perrins
1 tsp of mixed Italian herbs
10g of dried onions reconstituted in boiling water
100g of bell pepper diced
200g of courgettes diced
Several twists of ground black pepper
0.5 tsp of ground mace
Fresh tomato and herb topping (add ten minutes before the end of cooking time):

4 baby plum tomatoes – chopped
A handful of fresh chopped coriander
Salt and pepper to taste
Method:
Put all the casserole ingredients in the slow cooker. Switch to auto. Six hours later add the topping ingredients and season to taste. Serve with ultra herby couscous and loads of fresh raita.
Leave a reply