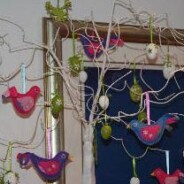 Some years we skip having a Christmas tree but we always have a living Easter tree, since we were introduced to them a few years ago. An Easter tree is such a vibrant symbol of new life and hope for the forthcoming year. An Easter tree can be made from anything. Wire coat hangers, twiddly twisted willow branches even a pieces of string slung across a wall. The main point is to create something where you can hang things that are special to you. In fact, until I discovered that you could have a living Easter tree – I'd spotted carved...
read more
  There are many beautiful moths that come into the cottage on summer evenings. They are welcomed and their beauty dazzles me and I hope that they will not drown in the washing up bowl. Then there are the clothes moths, the enemy that likes to guzzle our carpets and clothes. Any that I spot lolloping on the ceiling are killed by gently wiping my finger over them – yes our ceilings are that low. Despite the clothes moth murders hundreds of these greedy creatures manage to creep into our drawers and wardrobes each year with devastating...
read more
  "I bet your house smells wonderful." The lady in Holland and Barrett  exclaimed as she put my essential oils in a bag. "I'm making potpourri and our cottage is beginning to smell great." The Holland and Barrett essential oils are very good quality and the scent lasts well. We use them for making essential oil recipes that I found in The Fragrant Mind by Valerie Ann Worwood. I will be using some of these recipes in my potpourris and scented bags as we have found that they are extremely powerful. It's taken ages...
read more
  I've been interested in drying flowers since I started growing them in earnest this year. This would be a way of extending the 'sales' season and getting 100% out of the flowers. Recently a kind reader emailed me and suggested that I dried rose petals as confetti. This would be a great use of our old French climbing roses – these go over fairly quickly so I can only really sell them in bud. I had also been toying with they idea of making a range of really good potpourri – this could be sold all year and wouldn't be expensive to...
read more