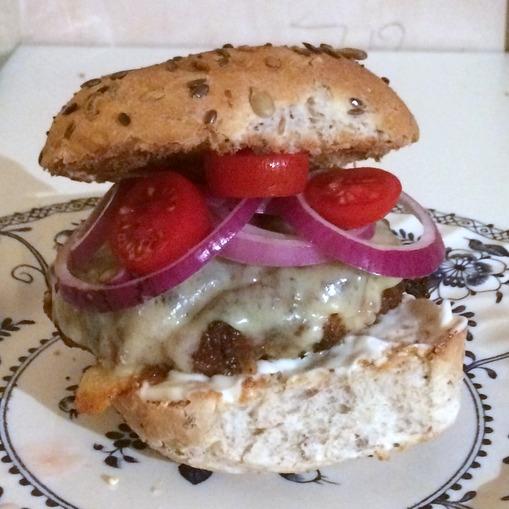 I have yet to meet a true carnivore that doesn't love these burgers. Initially their faces fall politely but within a munch they are grinning with relief. And that's the point -meat eaters often think that veggie stuff will be bland and just too 'vegetable -y'.
They also worry that veggie food will not give them enough protein to sustain them. Actually these burgers pack a protein punch. They also combine a significant amount of the veg for the day. Apart from this, they are absolutely delicious.
Even the most diehard carnivores now know that we need to cut down on meat and up the ratio of veg, grains, pulses and fruit in our diets.
For many meat eaters like me this can be a bit overwhelming. The traditional veggie option being a once a week cheap meal like beans on toast or baked potatoes, with salad and grated cheese.
Over the past couple of years I have been experimenting with vegetarian and vegan food. I love my meat but have twigged that to have a good repertoire of veggie and vegan recipes would be a great investment in my food loving future. As well as planetary concerns, the sort of high welfare meat that I enjoy will become increasingly expensive and apart from an occasional treat, out of my price range.
My first challenge was to find a fantastic veggie burger. I chose these as I have never been very keen on them. So if I could find one that I really liked, it would have to be very good indeed. Making an excellent veggie burger would be a great start on the path of developing tasty non meat meals.
After a few not so tasty hiccups I found Melissa Clark's The Ultimate Veggie Burger . Published in the New York Times. The recipe consistently has 5 star reviews. I pored over the reviews, looking for tips, twists and ideas.
The great thing about the NYT food section is that the reviewers are also subscribers. They are really interested in food and want to share their ideas. So often the comments on recipes in the UK press degenerate into point scoring.
The first time that I made these burgers, I made several changes as I just didn't have or like some ingredients. I substituted quinoa for brown rice and doubled the tofu as I didn't have tempeh. I hate kidney beans so I used black eye beans. An internet search revealed that the Cotija cheese or Queso Blanco could be replaced with Parmesan or similar very hard cheese – I used Grana Padano. When I tasted the mix I wanted some more low notes in terms of flavour so I also added a tbl of Laura Santtini's Taste#5 Umami Vegetarian paste. This can be quite difficult to get hold of in the UK and I have found that vegan Clearspring Umami Paste – just a couple of teaspoons – does a similar if not a better job.
The tamari nuts are not something that I have seen in the UK but you can make them easily at home – if I don't have tamari, I use soy sauce. This is a handy method – Good Tamari Cashews recipe – always add a few more as these are very moreish. I use chestnut mushrooms rather than the crimini mushrooms and at least a cup of grated beetroot. Sometimes I use a small finely chopped onion rather than the continental onions. These burgers are very flexible.
The mix was so delicious that I was eating it uncooked out of the bowl. I wanted high, middle and low notes in term of taste. These burgers have all the flavour and texture that I was looking for – raw and cooked!
Given the choice between a normal beef burger and one of these, I would always choose this burger.
I did get hold of some tempeh and brown rice and tried the original version without my umami and seasoning twists. I much prefer mine.
They are a palaver to make but well worth the effort. I have discovered that you can prepare the mushrooms and beetroot in advance and freeze them. The beetroot I shred and freeze raw and the mushrooms I chop smallish and I bake in the oven with garlic, olive oil salt and pepper. If you have a tofu press or can improvise something similar, there is no need to bake the tofu.
The mix sits happily in the fridge for 5 days. The burgers freeze well and I often cook them from frozen – either in the frying pan or baked in the oven
*Perfect party food in mini buns with some mayo, slice of tomato and thinly sliced raw onion rings. Great with melted cheese on the top too. Brilliant to have in the freezer for a quick week night supper that will be ready in 20 minutes. Great on the barbecue. I could go on and on.
These are easily made with the help of a food processor. I have made them without one as the cottage is still a building site and most of my equipment is packed up somewhere. They are delicious enough not to care about the lost processor blades and make them the old fashioned way!
Recipe: Best Ever Veggie Burgers
Adapted from Melissa Clark's superb NYT recipe – The Ultimate Veggie Burger
Ingredients:
349g (standard pack) or 12 ounces of silken tofu, drained and pressed – I use a tofu press for this. Or extra firm if you can get it. Cut into small 2cm squares
250g or ½ pound Chestnut mushrooms, chopped
¾ teaspoon sea salt, or more to taste
½ teaspoon of ground black pepper, or more to taste
2 tsp of umami paste
1 tsp of dried thyme
1 400g or (14 or 15-ounce) can black eyed beans, drained
1 medium beet, peeled and coarsely grated (at least 1 cup)
¾ cup tamari cashews
? cup panko bread crumbs
60g or 2 ounces Parmesan or Grana Padano
2 large eggs or 4 bantam eggs
2 tablespoons mayonnaise
3 Continental Spring Onions sliced fine or half a medium onion chopped very fine
3 fat garlic cloves, finely chopped or two heaped tsp of garlic purée
1 teaspoon dulce pimentón /sweet smoked paprika
1 cup cooked quinoa – cooked in veg stock
Olive oil
Method:
Heat oven to 200c or 400f. Spread mushrooms and grated beetroot on a baking tray; toss with 1 tablespoon of oil and salt and pepper
On another baking sheet, spread the beans
Roast beans, mixing once, until beans begin to split then remove from the oven
Roast mushrooms and grated beetroot until the liquid has evaporated. Remove from oven and leave aside to cool.
Place nuts in a food processor and pulse gently once or twice until coarsely ground. Add these to a large bowl
Add the cooled bean, roasted beetroot, mushrooms, crumbled tofu, panko breadcrumbs, cheese, mayonnaise, continental spring onions, garlic, pimentón, salt and freshly ground black pepper. Pulse just to combine ingredients – small chunks, not a smooth mixture. You may need to do this in several batches.
Scrape mixture into the bowl with the nuts and mix very well and taste – adjust seasoning if necessary.
After seasoning to taste add the beaten eggs and stir gently to evenly distribute the eggs through the mix
Chill in the fridge for at least 2 hours or up to 5 days (you can also freeze the raw burger mix in patties – this is what I do).
When you are ready to make the burgers, divide mixture into 6 – 8 equal portions and form each portion into a patty about 25mm/1 inch thick. Return to the fridge until just before cooking. They cook better when they start out cold.
Cook the burgers either in a frying pan or bake in the oven. When frying – cook over a medium heat in a little oil for about five minutes each side. Baking in the oven give hem about 15 minutes at 180c – no need to flip them.
They are cooked when they feel firm in the middle if pressed
I often add some cheese to melt during the last few minutes of cooking. I's not essential. Serve with mayo, thinly sliced onion and tomatoes. *For a party I divide the mix into at least 18 small fat patties and put them into mini rolls with mayo etc.
Leave a reply