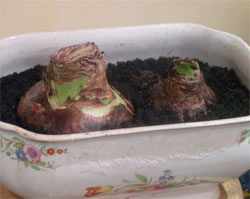 My mum gave me two amaryllis (Hippeastrum) bulbs at Christmas and finally today they have been set in a bed of compost. They will flower a bit later than usual but that's fine with me.
We usually have a race to see whose amaryllis flowers first. A few years ago I was decorating her house and seemingly overnight her amaryllis developed a second bud. Neither of us had ever seen this wonder before.
Like many people nowadays she keeps her mind in trim by tackling The Times crossword every day. She does not get up in the morning until she has solved three clues. As I needed to paint her bedroom ceiling I encouraged her to get up and dress. That involved helping to solve the third clue that was puzzling her.
I'm no good at crosswords but good at using all help available, so I nipped downstairs to fetch the Brewers Dictionary of Phrase and Fable. Within seconds we found the solution. I can't remember the question but the answer was Zeno, the Greek philosopher.
She immediately christened the first amaryllis bud Zeno – a good strong name. She pondered for a few minutes and settled on Mincy for the second smaller, rather weedy bud. Danny and I had invested in a very disappointing mincer, which had sucky rubber feet that gripped the table as you minced. It was only stable if you turned the handle with the gentle touch of a fairy and finally we lost patience with the tremulous beast and it was jettisoned to Oxfam.
So each year the competition begins with setting the bulbs. Within a short while one or other of us is mentioning a Zeno. Perhaps amaryllis bulbs have changed as Mincy usually makes an appearance in both her town house and the cottage.
This year, I think that she gave me a fighting chance when she gave me two bulbs. My mum will win this year as her bulbs were tucked up weeks ago.
Update January 2001: I've just discovered that you can get outdoor hardy amaryllis bulbs. I'm very tempted to get some for the garden as they have a long flowering time from June to August.
Leave a reply