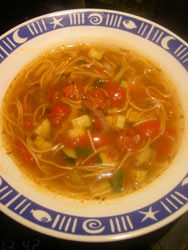 "What do you think galengal tastes like?"
My mum shrugged. "I would leave it if I was you."
I was examining the spices to add to our ten minute soup.
So I put back the galengal and grabbed a small jar of Massaman Thai curry paste. This includes a lot of the ingredients that I use for our soup all in one jar – chilli, lemon grass, tamarind, corrriander and a few others such as shrimp and cumin. Galengal has a small walk on part too.
We don't eat soup every day for lunch. Sometimes we still eat a surreptitious sandwich (granary bread Cashel Blue cheese and lettuce was a particularly good recent one). But when I do make soup it's a great low fat alternative to a sandwich, satisfying, packed with loads of vegetables and so delicious that we always have a couple of small bowls each.
I make a good strong stock with the bones from the belly or loin of pork that we buy to make bacon. This bubbles away in the slow cooker(crock pot) for hours and the dogs eat the vegetables as a topping on their complete food (with the exception of the onion).
Then it's a question of balancing the vegetables and the spices. The courgette took the sharpness away from the tomatoes and basil (a handful of frozen sweetcorn does the same). The noodles (ideally thin egg noodles) add a neutral dimension that counters the heat of the spices and doesn't have Danny reaching for the bread knife. The trick is to keep tasting and adjusting.
Why not try the challenge? It's fun.
The secret is the stock. You can make your own. Why not get some good tips here from Hank. Joanna gave me one of the best tips that I have ever had when she suggested keeping the skins on onions when you make a stock – these give a good colour and flavour. Joanna's general stock making tips are on this post.
The ten minute element of this challenge is good. There is no time for dilly dallying over the soup pot. I work out what the key ingredients are when I'm painting in the morning and then line up my spices and veg. When I set the timer, there's always an element of desperate bravado. Sometimes in the heat of the moment I discover a great combination that would have passed me by if I'd had time to think. Setting a time limit is fun with surprisingly good results.
Galengal is on the list for this week.
Old fashioned energy saving tip:
I choose a pot that is the right size to accommodate our soup bowls as a lid. When the soup is finished, I set the bowls on top when I go upstairs to call Danny down for lunch. Warm bowls for free! In the past we switched on the oven to heat up the plates – oooops!
Spicy tomato and courgette soup recipe
Ingredients:
1 litre of good stock, chilled and fat removed (water with 3 stock cubes would do at a pinch)
1 fat clove of garlic chopped fine (1 tsp of garlic granules would do)
10-12 small fresh plum tomatoes (sliced and halved)
3 continental spring onions sliced(the fat ones)
1 small courgette chopped
1 large handful of fine egg noodles
3 tsp of Massaman Thai curry paste
1 tsp of lemon grass
Small handful of basil chopped fine (about 2 tblsp of unchopped basil)
quarter tsp of chopped red chilli
1 tsp of vegetable stock powder (optional – this can pull a soup up by its laces in 30 seconds)
1 heaped tsp of coriander powder
1 tsp of soy sauce
Good twist of freshly ground black pepper
Method:
Heat your stock in a large casserole whilst you prepare your vegetables.
Add the spices and vegetables and simmer for a few minutes until the tomatoes have softened.
Add the fine egg noodles. Stir and leave for three minutes
Taste and adjust the seasonings if necessary. Serve in warm bowls.
Leave a reply