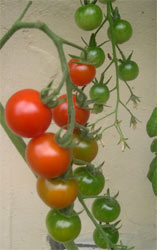 Years ago when so called witches were awaiting trial, they were fed mouldy bread and water. Mouldy bread, in excess, causes hallucinations. And in the case of the witches probably sealed their fate.
So I tend to avoid mouldy bread.
We have been working on the ultimate pork meatball recipe. We now have a recipe for the softest melt in the mouth meatballs with the addition of a beaten egg.
I decided to give Magimix
her first run chez Cottage Smallholder. I oohed and aahed so much that Danny rushed into the kitchen to check what was going on. Our sauce was packed with extra vegetables as he had to have a go too. Magimix was in slicing mode and this seemed to release loads more flavour than when I heroically chop the Romano peppers and tomatoes. The cheats sauce, using the Waitrose tomato and herb pasta sauce as a base, was absolutely delicious.
Puffed up with pride I called D to the table. After a minute he put his fork down.
"I am sorry but I can't eat these meatballs."
"Why on earth not?"
"They have a mouldy taste."
The ball I was eating was fine, the next one was from a Pharaoh's tomb.
We eventually realised that the loaf that I had chosen for the breadcrumbs, was mouldy in the gentlest way. Not the usual grey mould patches. This was a small white mould, almost like a dusting of flour that had infiltrated the loaf.
So we ate the sauce on a bed of couscous and chopped fresh herbs. The Min PIns guzzled the meat balls.
The ultimate soft pork meatballs recipe
Ingredients:
For the meatballs:
500g of minced pork
50g of fresh breadcrumbs
1 tsp of decent dried mixed herbs or 1 tbsp of fresh herbs (chopped fine)
4 tbsp of milk
1 tbsp of dry white wine
1 medium egg (beaten)
For the sauce:
Waitrose tomato and herb pasta sauce
3 Romano peppers (sliced)
8 cherry tomatoes (sliced)
4 chestnut mushrooms (sliced)
0.5 tsp of smoked sweet red pepper powder (or more to taste)
Splosh of dry white wine (about 150ml)
Method:

Pour the sauce into a large casserole or marmite. Toss in the peppers, tomatoes and mushrooms and wine and allow to simmer, lid on, as you prepare your meatballs.
Add the herbs to the breadcrumbs and mix well then add the milk and I tbsp of white wine. Allow these to soak in before mixing the breadcrumbs through the minced pork. Then mix the beaten egg into the meatball mixture. Form 14-16 small balls the size of a large walnut.
Gently place these into the saucepan and simmer (lid on) for 10 minutes. Then turn the balls very gently to cook the other side and simmer for ten minutes (lid on). Simmer for a further ten minutes.
Leave a reply