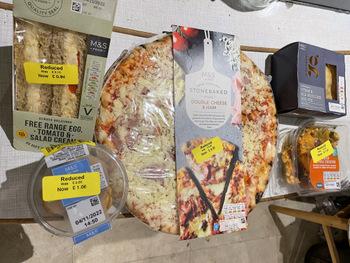 Have you heard of this mobile app? The ToGoodToGo app is designed to link restaurants/cafes/food outlets with people who are happy to eat food that is on the sell by date. Left over food – that would normally be thrown away – can be ordered and collected in a mystery magic bag . You cannot chose the contents.
The price is at most a third of the original cost of the food that is presented. This is not a new app, it has been going for several years.

I heard about it last week and decided to test it out.

I'm on a very limited budget which means quite a bit of scrimping. On a tight budget the one thing that you miss are treats. Unless, of course, they appear on the *CFC at ridiculous prices!

I downloaded the app to my phone and swiped through the offers. I spotted that a garage with M&S outlet were participating – just ten minutes drive away. M&S always have good quality food – just up my street. The only drawback is that collection there is only between 9 and 10 at night – absolutely fine with me.

My magic bag contained a very large deluxe pizza. Stashed in the freezer for Slave Sis' next visit at the end of the month. A delicious steak and ale pie – eaten the next night. A portion of profiteroles filled with cream and doused with two chocolate sauces – scoffed on the collection night. A great egg, tomato and salad cream sandwich – lunch the next day. A good bulgur wheat and veg salad, eaten a couple of days later.

Cost £4 and pre discount value was over £17! I loved every mouthful.

If you are on a small budget why not give it a go and avoid some food just being thrown away?

*CFC – the condemned food counter. This is the first place that I go to on a supermarket shop.
Leave a reply