Update on the Farming Friends – Cottage Smallholder Interblog Guinea Fowl Breeding Event. A new home for the boys.
Posted by Fiona Nevile in Guinea Fowl | 7 comments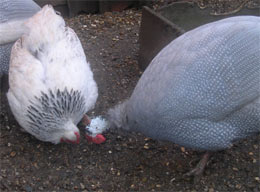 June 2007 saw the launch of the Farming Friends – Cottage Smallholder Guinea fowl breeding event, when Sara sent us six guinea fowl eggs in the post to put under our broody hen Mrs Boss.
Since then our guinea fowl have grown up and become sexually mature. With 3 cocks and one hen, we needed to find a home for two lone cocks. While we waited to find a suitable home our guinea fowl have finally sorted themselves out.
Cloud, our lone guinea hen, has chosen her mate. A handsome hero of the beach type, with large pendulous wattles and striking helmet. He is the GF that we named Thunder.
The other two males are not so dominant and hang around together. If they get too close to Cloud they are wafted away in an instant by Thunder. At night he roosts besides Cloud in the hen house and protects her when she is tripping about in the run. I didn't release that guinea fowl are monogamous. It's good that we have identified her husband as we have now found a home for the two gentler guinea fowl cocks.
As there was a possibility that they would go in the pot, these have not been named. Since we found a new home for them I have secretly named them Bill and Ben. But hopefully their new owners will gave them more sonorous names.
We were getting a bit desperate. A few people have shown an interest in the boys but they all lived too far away. A couple of local estates were tempted but this dwindled to nothing.
I am fond of the birds and am actually more drawn to the gentle boys than the dazzling Thunder. If they were going to a new home I wanted it to be a good one where they would be cherished. Even if they were eaten in the end.
On Valentine's Day I was queuing in the Nat West Bank. A happy, paying in a cheque sort of visit. I spotted The Chicken Lady behind the screen. She's a lovely warm bubbly person that would never be unkind to anything in her care.
"I hope that I get her. She might be interested in the guinea fowl."
I wished that the queue and the tellers would work some magic, speed up and let me be her next customer. To my horror I saw her putting on her jacket. She was leaving for lunch. I immediately willed the queue to move more slowly. A slow snails pace might mean that I could speak to her as she left the bank.
She listened to my proposition, head on one side.
"We've had them before. They made an awful racket."
No one could deny this fact.
"I miss them so we might be interested. I'll ring my husband."
Cheque deposited I sat in Jalopy and telephoned D. We agreed that The Chicken Lady would be perfect. She lives in a quieter more rural end of our village. The boys would have more freedom and help control snails and slugs in her garden.
The next day she confirmed that she'd love to take the boys. Did we need any helping catching them? No, it couldn't be difficult. Could it?
This morning D and I stepped out with a couple of large redundant beach towels.
"All we do is drop the towel over a boy to contain them and pop them in the hamper. Just like catching a parrot or cat."
The flapping towels caused instant hysteria in the run. We pursued the flock from one end of the run to the other without success. Several times. At one point the two boys were almost encouraged into a large cage and in the nick of time compressed themselves into the one inch gap between the portable prison and the flexible fence. At this stage the entire flock had hidden and were clearly expecting us to kill them all.
Had they overheard the keep them – eat them discussions?
After dark this evening we crept out with torches. My mother assured me that they would be befuddled by the light and that we could easily scoop the boys up and pop them into the transporting cage.
Wrong.
I quickly identified and grabbed one docile looking creature. My grip was text book firm. With an amazing, death defying, arm-breaking leap he wriggled free and erupted into the run. His shrieks so wild that the other birds had grabbed their mental muskets before I had even turned around.
I discovered that guinea fowl are very strong birds. They sense danger in a nano second. How could I have possibly contemplated finishing them off with my bare hands a few weeks ago?
I rang TCL and explained.
Her chirpy response was a relief.
"We are skilled at catching fowl. We'll be up tomorrow afternoon."
Watch this space.
Leave a reply