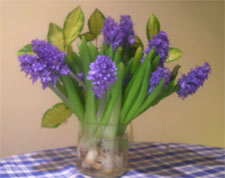 Shopping with my mum is fun. Jalopy has a well deserved rest and we venture forth every other weekend in Danny's company car.
With her special badge we can glide into the spaces right beside the supermarket doors. When I spring out of the driver's seat passers by look angry but when I open the passenger door and they see the waking stick and my mum, they relax.
My mum is no dinosaur. It's the walking stick that's the green light. And we're grateful to be able to nose into the easy access bays. After a big shop we're both tired when we head for the car.
Somehow over the pasta and spring asparagus we connect in a deeper way than if we had just met for a fleeting cup of coffee. Surrounded by food, it's natural that we talk about it. It's the springboard for hundreds of other conversations as we progress slowly up and down the aisles. She introduces me to new ingredients and sometimes I can share our discoveries too.
My mum gave me these hyacinths last weekend. We had some lonely variegated elaeagnus skulking in a vase. The combination is wonderful and has buoyed me up all week.
Incidentally, my grandmother always said that planting variegated elaeagnus is a great investment. The leaves can transform an arrangement of flowers. In the winter the shrub brightens the dullest day as the leaves look as if they are splashed with sunlight.
Leave a reply