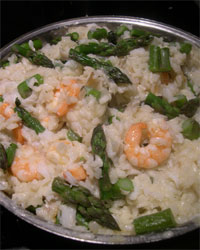 It was my turn to cook tonight. On the way down to Essex this morning, I decided to cook kedgeree. I had found some traditionally smoked Haddock in the freezer. The bag looked small so I poked about for something else. We had the remains of a pack of uncooked tiger prawns. Danny is 54.5% keen on kedgeree as a supper dish, this might tip him over to 64.5%. Especially if he had a starter of asparagus.
On the journey home I changed my mind and decided to make an asparagus and smoked haddock risotto. Everything would be in the one dish. The challenge would be to not let the smoked fish kill the asparagus.
The dish worked well. Comfort food at its luxurious best. The key was to cook the main ingredients separately and combine them at the end. It was quick and easy to make. The clean green taste of the asparagus lifted the dish. It was very good for supper this evening but It would be perfect as a chilled starter. Tasty and surprisingly good.
We tried it for lunch, chilled. It was excellent, despite someone creeping down to the kitchen and eating the remaining prawns last night…
Asparagus, haddock and prawn risotto recipe (for 4)
Ingredients:
1 medium onion
4 tablespoons of olive oil
1 large bunch of asparagus
350g of traditionally smoked haddock
300g of Carnaroli Risotto rice
100g of uncooked frozen prawns (unfrozen)
1 tablespoon of grated parmesan
1.75 litres of hot stock made with 3 teaspoons of Marigold stock powder
Method:
Peel and chop the onion and fry in 2 tablespoons of oil until soft and golden brown.
Add the rest of the oil and the rice. Stir well until the rice has absorbed all the oil.
Add the stock gradually, stirring every now and then so that it does not stick on the bottom of the pan. Simmer for about 20 minutes (following the cooking instructions on the pack).
Meanwhile steam the asparagus for five minutes, or until it is jut cooked with a bit of bite. Drain and plunge into cold water and set aside. Retain the asparagus water to poach the haddock and to use if the rice needs a little more liquid.
Cover the haddock with some hot asparagus water bring to simmering point and poach for four minutes, drain and flake.
Five minutes or so before the rice is cooked add the uncooked prawns. Stir then through the rice until they turn from grey to pink.
Add the haddock and sliced asparagus. Finally sprinkle over a tablespoon of finely grated parmesan and stir gently through the mixture.
.
Leave a reply