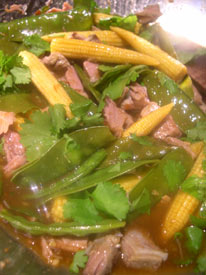 We cooked Spanish lamb last weekend and still had lashings of lamb and sauce left over. Sometimes we are well intentioned, making a Shepherd's pie with the remains. More often the remnants are jettisoned into the freezer and six months later the dogs polish off the bounty. Cold lamb doesn't look wildly appealing.
This week I was determined to use up the remains of lamb (500g) and the wine sauce in a stir fry. So this recipe is designed to follow on from our slow cooked Spanish lamb recipe.
I'd bought a book on stir fries from Homebase. Years ago we had a craze for cooking stir fries from a Ken Holm book and the smart stainless steel wok
 has languished in the cupboard ever since. At lunch time I examined the book carefully. It was an Australian Woman's Weekly Publication and I was riveted. Beautifully photographed simple recipes, combining a few key ingredients. The fast preparation and cooking was seductive.
But this evening my head whirled with too much information so I set the slim volume aside and made this dish. Using the sauce from the Spanish Lamb recipe, I needed no fat for frying. It was a quick and easy. The stir fry gods were smiling on me. Danny jettisoned his weekly rib eye steak with the remark.
"Delicious. Can we have the same again tomorrow?"
Low fat stir fried coriander lamb with mange tout, baby corn and lime infused noodles recipe
Ingredients:
For the noodles:
2-3 nests of noodles
4 tbsp of the sauce left over from the Spanish lamb
Juice of half a lime
For the sauce:
250g cold Spanish lamb (fat removed) and chopped into 1.5 cm chunks
2 tsp of ground coriander
1 tsp of honey
150g of baby corn
150g of mange tout peas
3 tbsp of Amoy chilli and garlic sauce
4-6 tablespoons of the sauce left over from the Spanish lamb
1 tbsp of soy sauce
3 tbsp of oyster sauce
Handful of fresh coriander leaves to garnish
Method:
Cook the noodles then bring 4 tbsp of the lamb sauce to simmering point, add the lime juice and toss the noodles into the wok. Turning them over to absorb the sauce. Set the noodles aside on a warm place.
Wipe the wok clean. Add 4–6 tbsp of lamb sauce, the soy sauce, the chilli and garlic sauce, the oyster sauce, the ground coriander and the honey. Bring the sauce to simmering point in the wok. Add the mange tout and baby corn. Simmer until cooked with a bite (about three minutes). Remove the wok from the heat before adding the lamb and put the lid on the wok. The lamb will be warmed through in a few minutes. Serve with a garnish of fresh coriander leaves.
Leave a reply