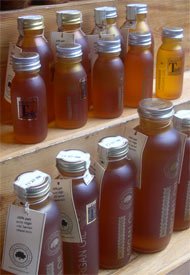 Every blogroll is special. Even the ones that have over a hundred names.
Mine holds the blogs that I visit regularly. If I don't have the time to drop by, I often think of posts that they have they have written – ideas that have touched me. Even though I have met only one of the authors, I count all these bloggers as friends.
Sometimes , late at night, we wonder about these 'friends' and plan a party for the boggers that we like and have never met. One day this will happen. The hugs will be enormous and the gossip afterwards will last for weeks.
Good writing lives beyond the page or in this case the screen. Like small rounded pebbles turned over and over in a pocket, all these blogs intrigue and delight me. They inspire me and always entertain. They represent just a few of the jewels that you will unearth on your journey through the Blogosphere.
Tonight I've updated my blogroll. I've deleted all that haven't blogged in the past six months apart from Writing at the Kitchen Table. This was a marvellous blog. Well written and packed with wonderful foodie ideas. Freya has started a new blog focussing on chocolate but I know that I will be drifting back to her old archives and I hope that you will too.
Leave a reply