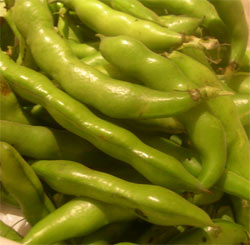 I like the sound of Hank.
He's involved in loads of things that I've never ever imagined doing, such as deep sea ocean fishing and hunting. Reading about these activities, sandwiched between shared interests – such as the kitchen garden, cooking and foraging – is fun and informative.
Things are different in Northern California and his cooking experience is huge. He's been a chef after all. His post on making stock (and the comments) impressed me so much that I didn't dare leave a comment. These are people sailing far beyond The Marigold Sea.
(Marigold is a deluxe brand of vegetable stock powder in the UK).
Hank is experienced in curing meat . As a novice bacon curer, I've trawled through his posts and found loads of hints.
Like Hank, John Coe is also an enthusiastic vegetable grower. John arrived this morning with a large carrier bag of broad beans. Hank calls these Fava beans.
"Let's use them for some of the recipes on Hank's blog." Danny eyes were shinning as he shook the carrier and peered in, assessing the harvest. He picked up a plump one and split it open.
"If John plants our beans, brings the seed and everything, why are his more mature than ours? And why do his pods have more beans?"
This must be a question that niggles every vegetable grower in the world.
I must ask John next time he comes. I suspect that the answer is simple. He has been growing vegetables and enriching the same ground for fifty years. We've only been growing vegetables for five years. John also spends more time on his patch. He feasts off asparagus that he grew from seed 40 years ago. He spends hours tweaking and watering. Apart from dancing every Saturday night with his pretty wife, Maureen, his modus vivendi is growing his own vegetables. Before he retired, it must have been his solace. Vegetable growing isn't just for food.
.
We decided to divide the beans between Hank's Fresh Fava Bean Spread which is championed on an excellent fava (broad bean) bean post and use just a handful as an accompaniment for some calves liver that I'd found marked down to knock bottom price in Waitrose.
Following Hank's directions, we simmered the beans, chilled and skinned them. Then we fried a handful of beans with the liver. A stupendous combination.
So there's a connection between East Anglia and Northern California. And a tenuous one between Hank and John Coe. Both are modest experts happy to share their secrets.
And that's what the best blogging is all about.
Leave a reply